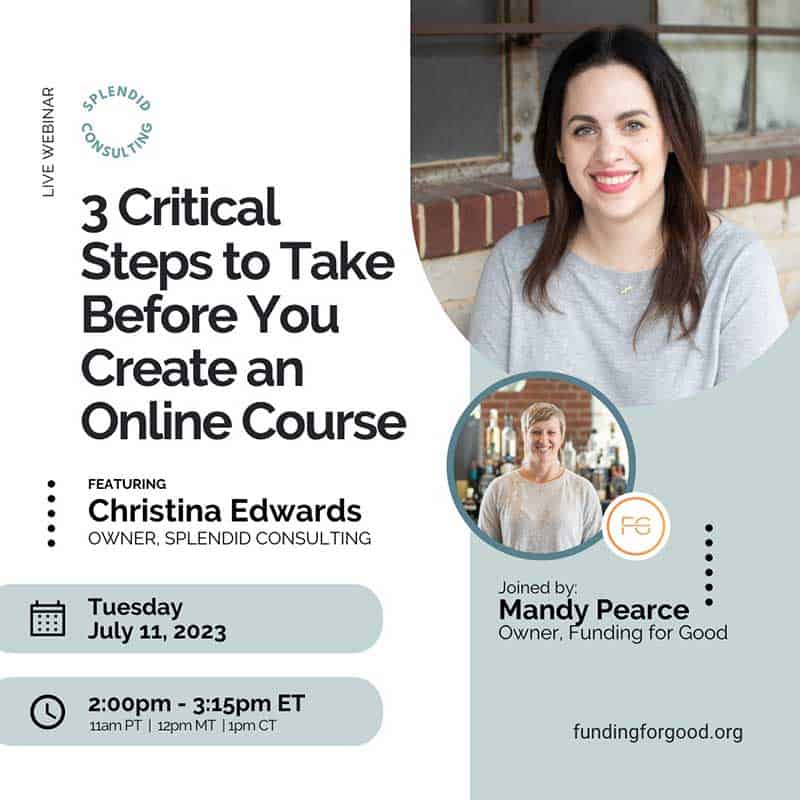 3 Critical Steps to Take Before You Create an Online Course
Join Christina Edwards, an expert online course creator and coach, and Mandy Pearce from Funding for Good, in this valuable webinar focused on the essential steps to take before creating an online course. As the e-learning industry continues to grow, it's important to design and sell a profitable course strategically. Christina will share her insights on developing scalable and impactful courses effortlessly. Whether you're considering building a digital course or online product, this event is tailored for you. Learn from common mistakes, understand why some courses succeed while others fail, and gain a roadmap to success.
The framework for successful course creation, including choosing a compelling topic, captivating name, and appropriate pricing.
Avoiding common mistakes and time-wasting activities in the course-building process.
Creating demand for your course before enrollment opens, a game-changing strategy.
A PDF Worksheet to brainstorm your course idea and action plan.
Additional handouts.
Access to the webinar replay until August 18, 2023.
Christina Edwards, the founder of Splendid Consulting and host of the Purpose and Profit Club Podcast, is an experienced entrepreneur, marketing expert, and business coach. She specializes in helping ambitious social impact businesses and nonprofits grow without burnout. Her signature online course, Amplify Social Impact, teaches organizations how to create meaningful marketing movements online. Christina also provides coaching to purpose-driven founders, assisting them in achieving their ambitious goals, enjoying the journey, and scaling their businesses with ease.