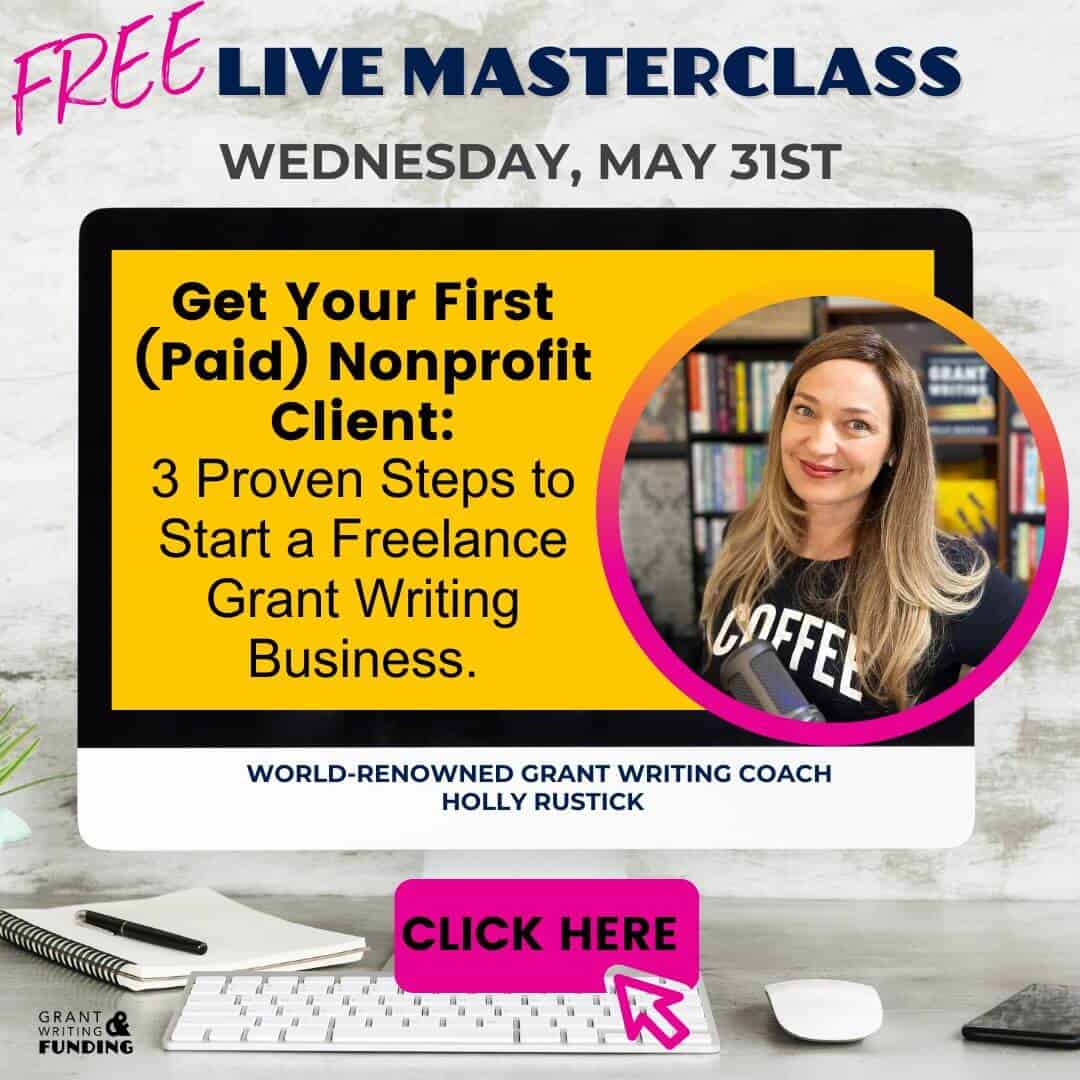 Start a Grant Writing Business (DRAFT)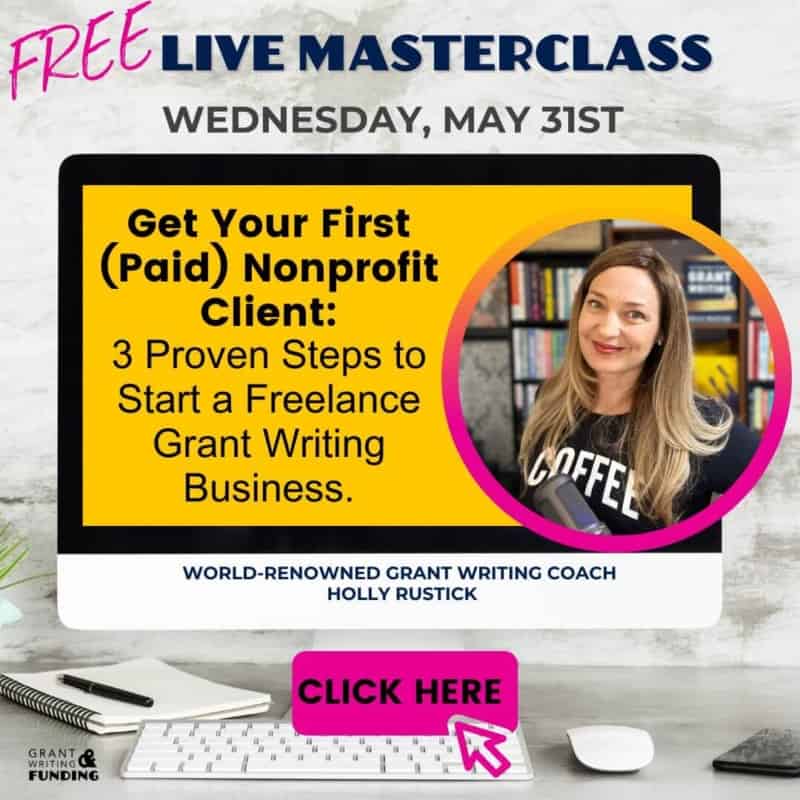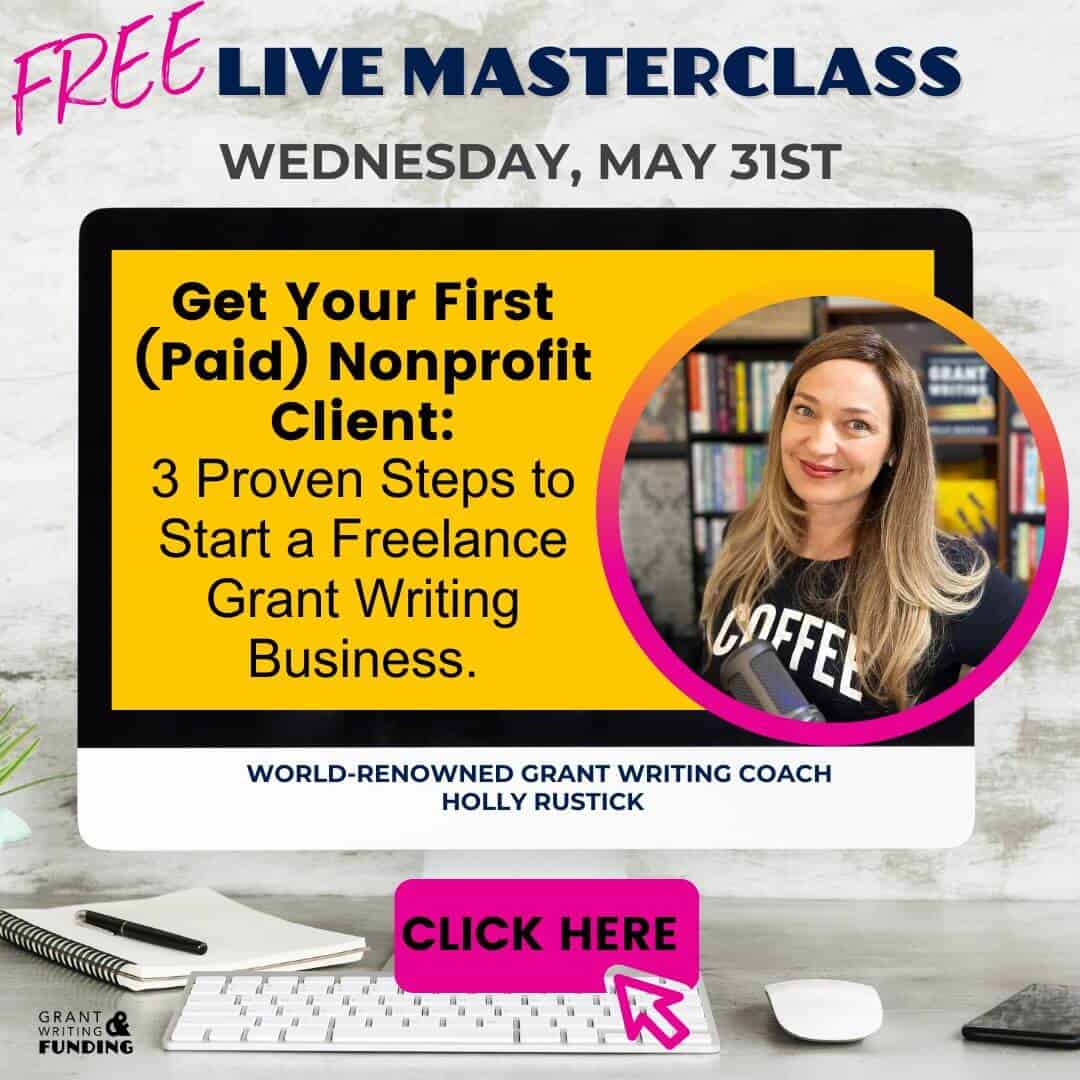 GET YOUR FIRST (PAID) NONPROFIT CLIENT
3 Proven Steps To Start A Freelance Grant Writing Business
Getting paid to write grants without the hassles that come from working on the inside of a nonprofit organization may sound like a dream.
To make this a reality, you need a blueprint for the mindset, money (yes, you need paying clients), and management of running a sustainable business.
In this free Masterclass, you will get the 3 Proven Steps to start a freelance grant writing business and get your first paying clients.
with Holly Rustick – Grant Writing Expert & Best Selling Author
What you'll learn in this free training:
Get Holly's secrets to developing Clarity & Confidence in launching or growing a freelance grant writing business.
Fast-track your knowledge with the unveiling of how to Get and Retain Nonprofit Clients. (It's not what you think. wink-wink).
Get the behind-the-scenes of how to create a System so You Save Time, Money, & Frustration.
Claim your spot now! Seats are limited
Wednesday, May 31st at 3 PM EST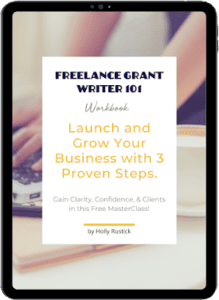 A Downloadable Action Workbook to Accompany the Free Masterclass
You NEED a proven step-by-step system to launch & grow your business
You want to feel confident in securing clients.
You want to build systems so you don't burn out before you even start a business.
"This is my second time attending this webinar. I will be contacting you to help me become a freelance grant writer. Thank you for your time, knowledge and experience!"
"I attended your freelance masterclass today. Great information! Even as a seasoned writer and relatively new freelancer, I learned quite a bit! Thanks so much!"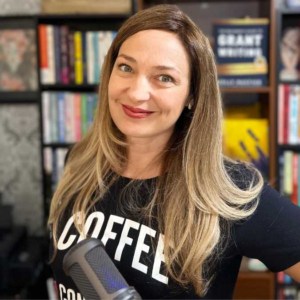 The CEO of Grant Writing & Funding, Holly Rustick has nearly two decades of grant writing and nonprofit experience, has helped nonprofits secure $30 million+ in funding for nonprofits around the world and trained thousands of changemakers secure grant funding! Since 2019, Holly has been the leader in the space of coaching others start and grow successful freelance grant writing businesses through her signature Academy and Mentorship programs.
Holly is the Go-To person for grant writing and online businesses. She is a co-founder of the Nonprofit Consulting Conference, directed the Center for Entrepreneurship & Innovation, is past president of the Guam Women's Chamber of Commerce, and was appointed by the Governor of Guam as an industry advisor to the Guam Business Recovery Group, spearheading the business community safely during the COVID-19 pandemic.