Because You Don't Have to Grow Your Freelance Grant Writing Consultancy Alone.
Starting or growing any freelance business doesn't have to be in a silo.
Join the Grant Professional Mentorship to advance your business with like-minded people, ongoing resources, and make a huge impact on the world!
The Grant Professional Mentorship gives you everything you need to grow your business and skills with accountability and support.
You deserve a serious *high five*!
You've done the heavy lifting to get the momentum started, but we all know that extended support, learning, and a community are what will grow your business and continue the momentum.
You are thinking about starting a freelance grant writing business but feel overwhelmed.

You started a freelance grant writing consultancy but feel isolated and get paralyzed with moving forward.

You have plateaued in your grant writing business and need to bring in more clients and money!
You might even have some of the following frustrations..
You spend hours & hours DAILY trying to figure out how to keep your business going (OMG that really took two weeks on a widget on your website?)

You do a ton of reaching out to nonprofits, but you're simply NOT seeing the results. (Serious crickets)

You feel like you are alone as a freelancer. (Will anyone even notice if I fail or succeed? Have I let my business become a hobby?)

You're not sure another course or program can help you, but you're ready for REAL answers. You're tired of wasting time, money, and energy on methods that give you ZERO results.
Who Has this Helped?



What You Get Inside the Grant Professional Mentorship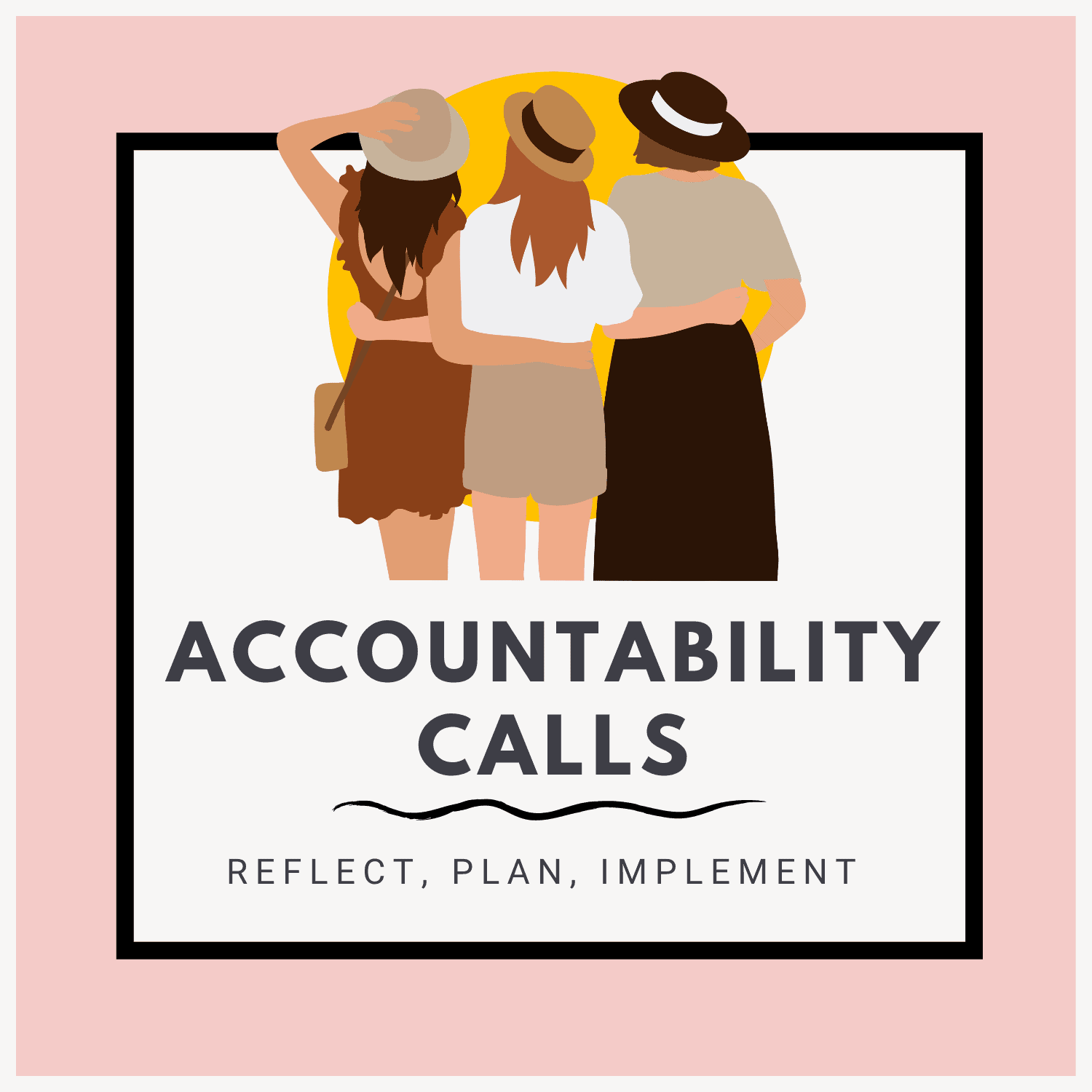 Accountability Calls
Every quarter we meet up in a virtual live session for your 12 Week Goal Planning. This is imperative to design your time so that you reach the ultimate results your desire! We will also share wins (yes, party time!), challenges, and reflect on the previous quarter. This is the true mastermind at work!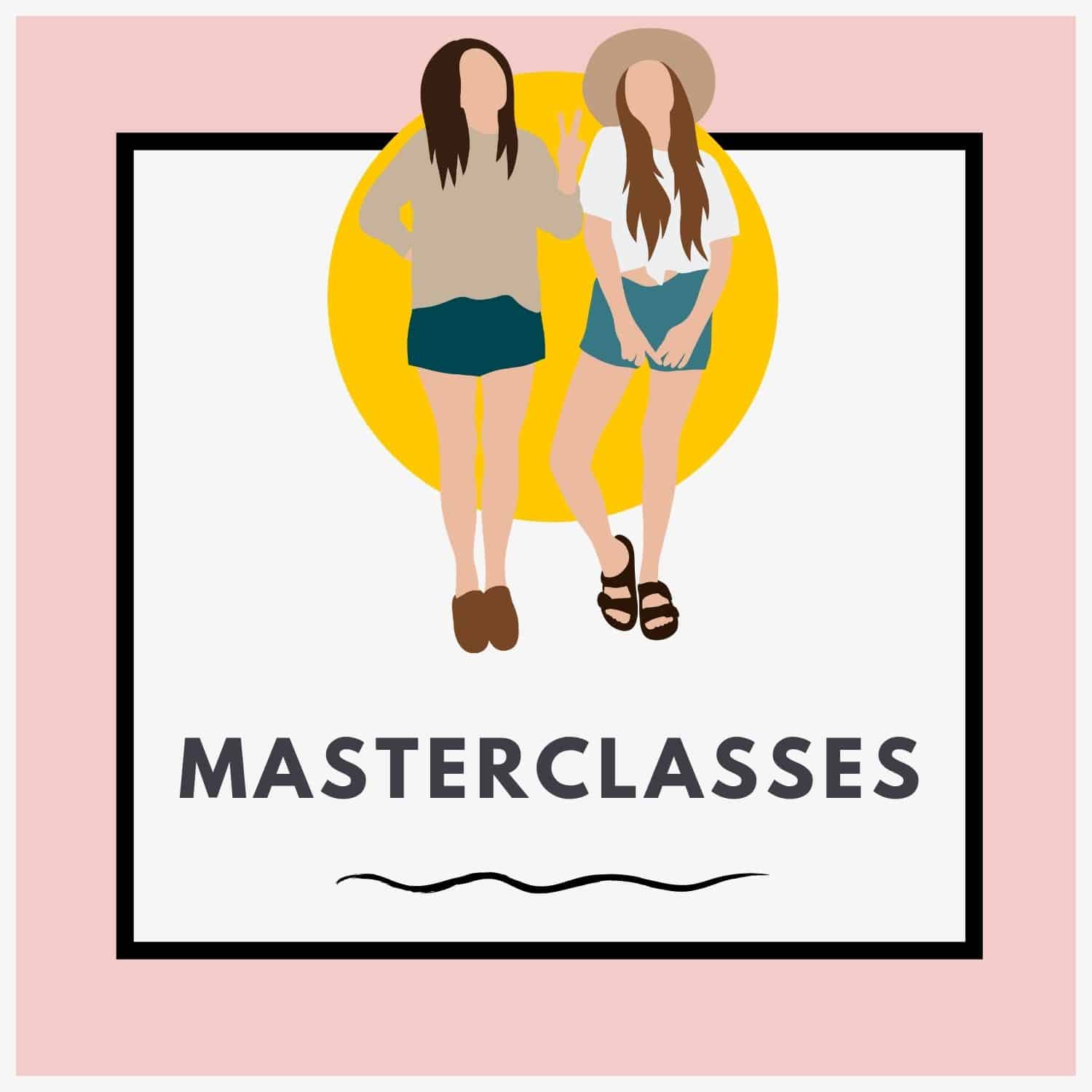 Masterclasses
Every single quarter Holly will teach a Masterclass on a specific topic to advance your freelance grant writing business. She also provides resources and tools so that what you learn is not just a theory, but can be implemented immediately to easily uplevel your business.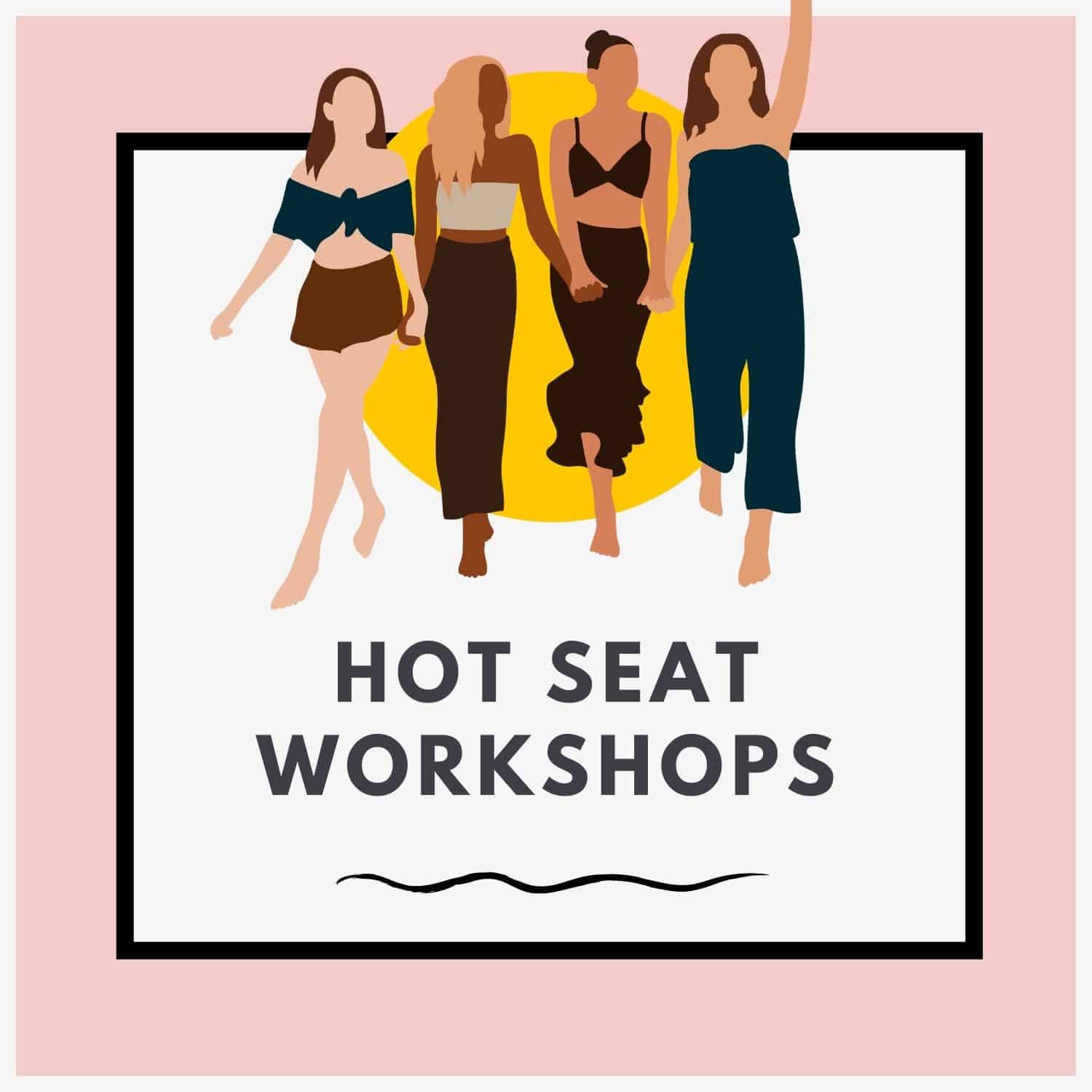 Hot Seat Workshops
Every single month, we will hold a Hot Seat Workshop. These are where you are to bring a specific item to the group and share! For example, we will bring our pricing strategies, share our website copy, bios, and more! Don't have all of these developed yet? No worries. You can bring drafts! In this way you will get feedback from your cohort and Holly. This is the most popular aspect of the mentorship!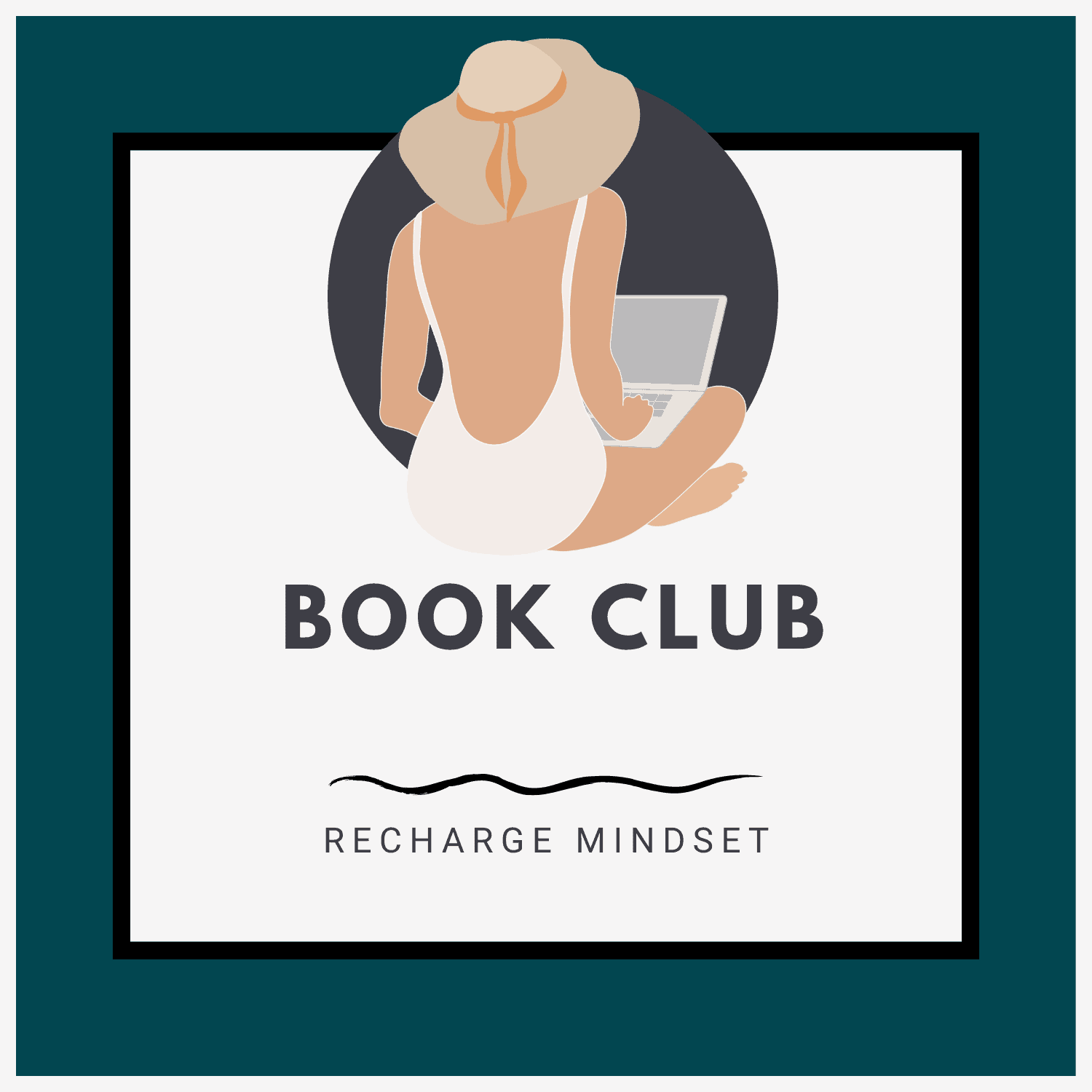 Book Club
Every single quarter we have a book to read! These books are all to help advance you in your freelance grant writing business and focus on elements from productivity to pricing and beyond! Continual personal and professional advancement is critical as an entrepreneur. These books will give you deeper insight into running a successful business.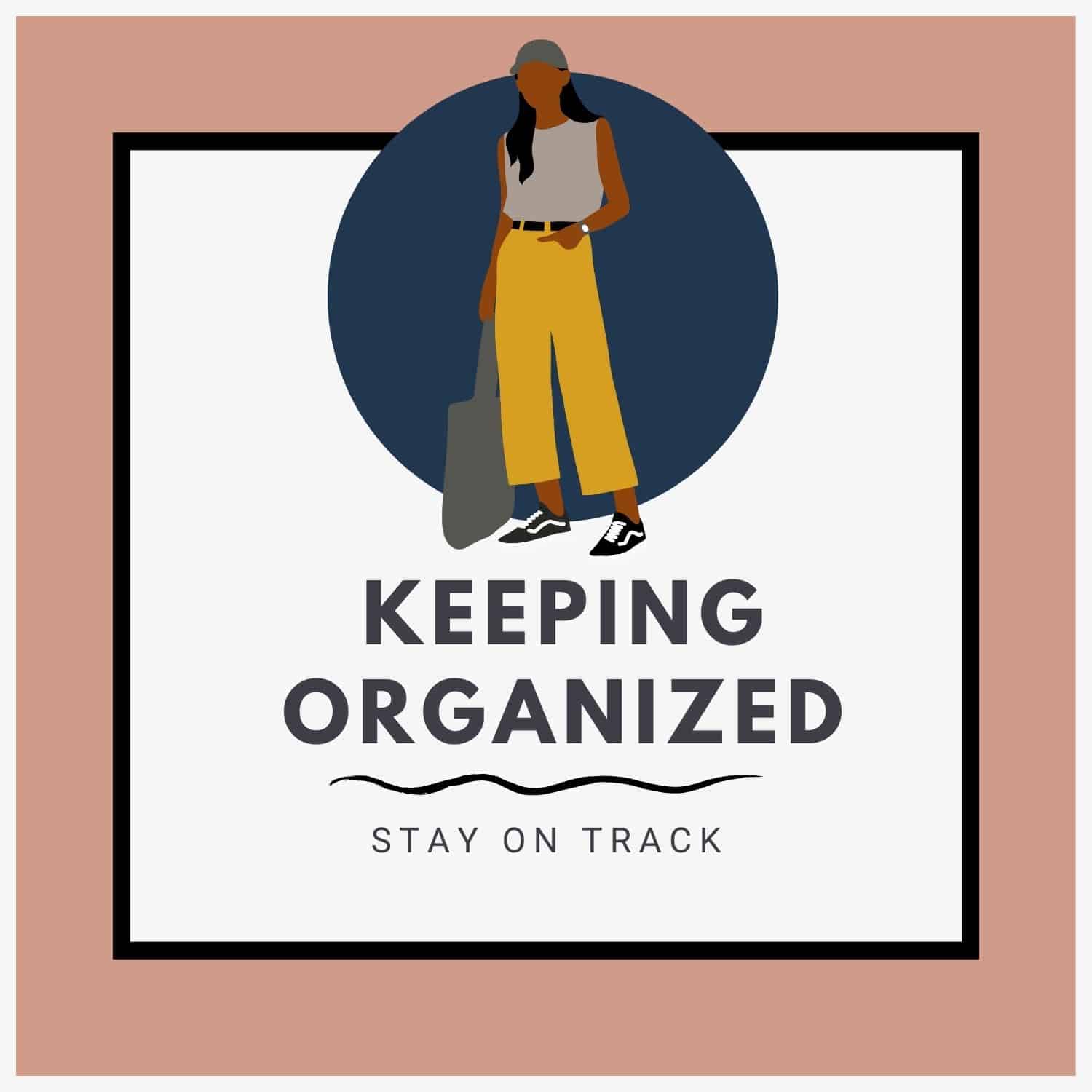 Keeping Organized
Through the Accountability Sessions, specific books, and the resources you get in the Mentorship will all lead to helping you stay organized. One of the best ways to stay organized is also to do 'deep work' and out of the 'shallows'. Deep work is working on the most important elements of your business and shallow work is all the shiny pennies (i.e. lost in email, getting stuck on perfecting a website, social media, etc.).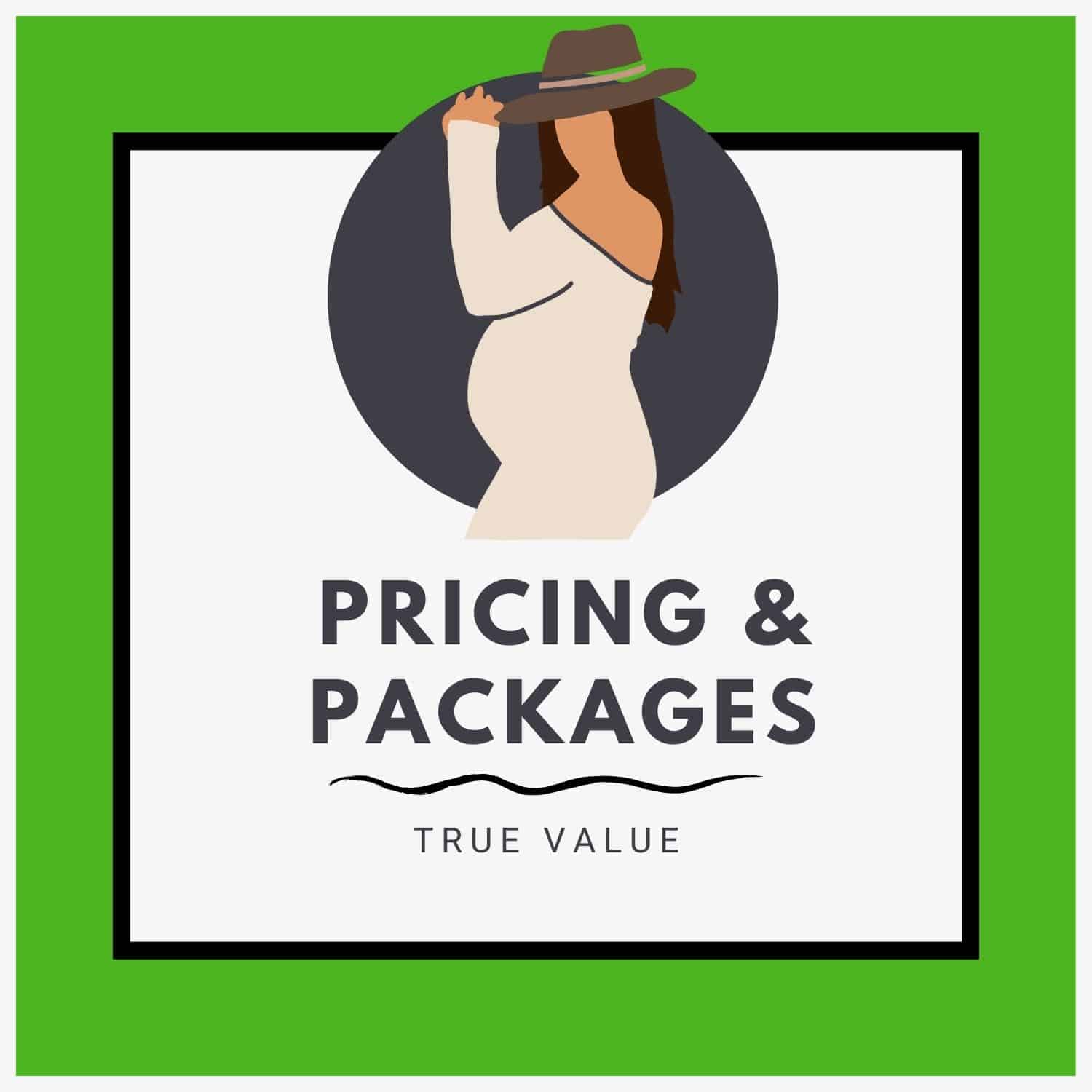 Pricing & Packages
Yes, we will work a lot on prices and packages. This is where so many freelance grant writers get hung up. That new client wants a proposal from you ASAP but you aren't sure what to charge. Maybe you have some templates already developed, but then they ask about a new service! The thing is most female grant writers undercharge what they are worth. We will work on identifying your value-based pricing so you can feel confident when pitching to nonprofit clients.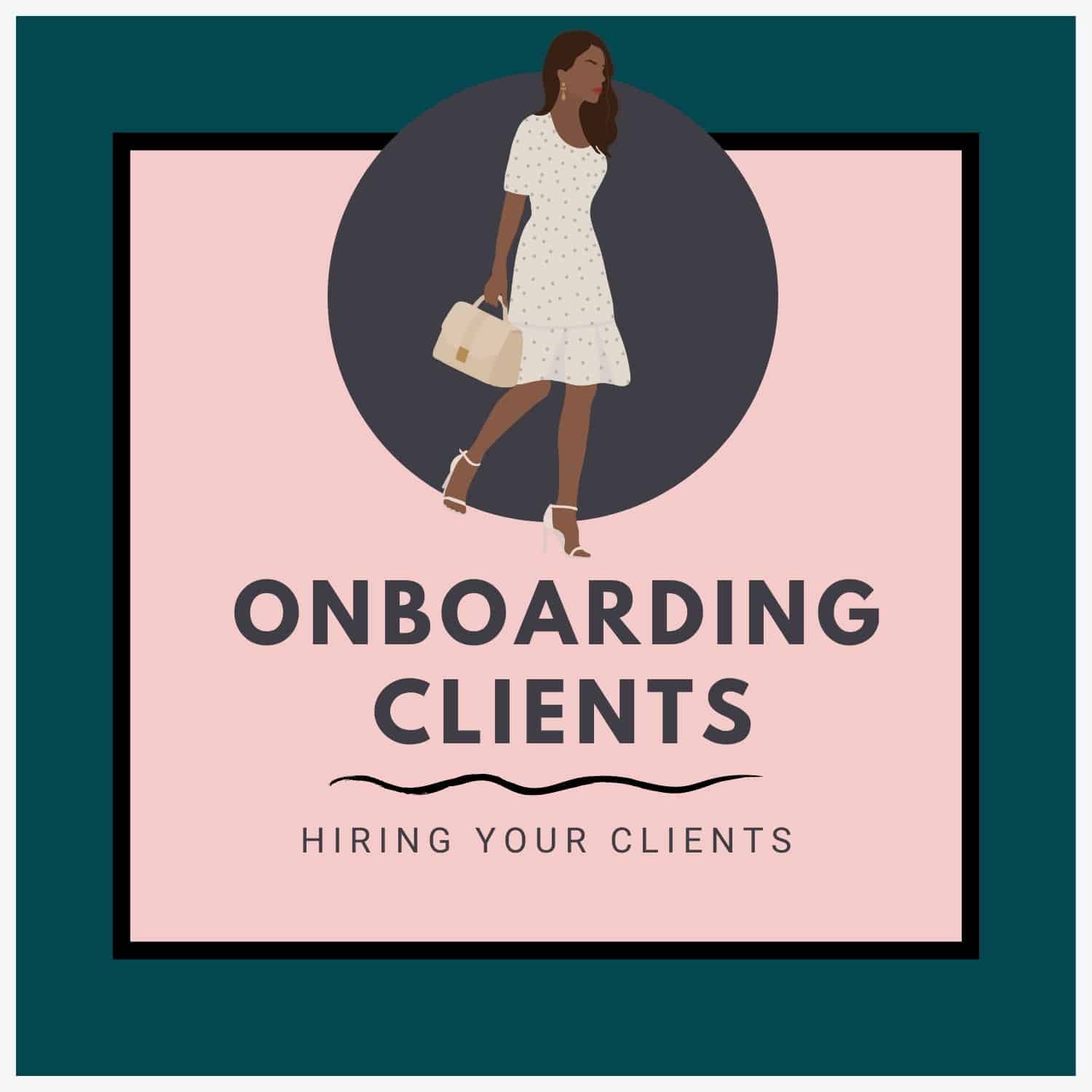 Onboarding Clients
You may think this is the easy part (and it can be once you have a system in place), but this is where many freelance grant writers drop the ball. They aren't sure how to go from potential client lead to actual client. I've seen so many grant writers suffer from paralysis on not getting a proposal sent over after a discovery call, or not upselling services. We will eliminate that tiny gap that is having a huge impact on your bottom dollar.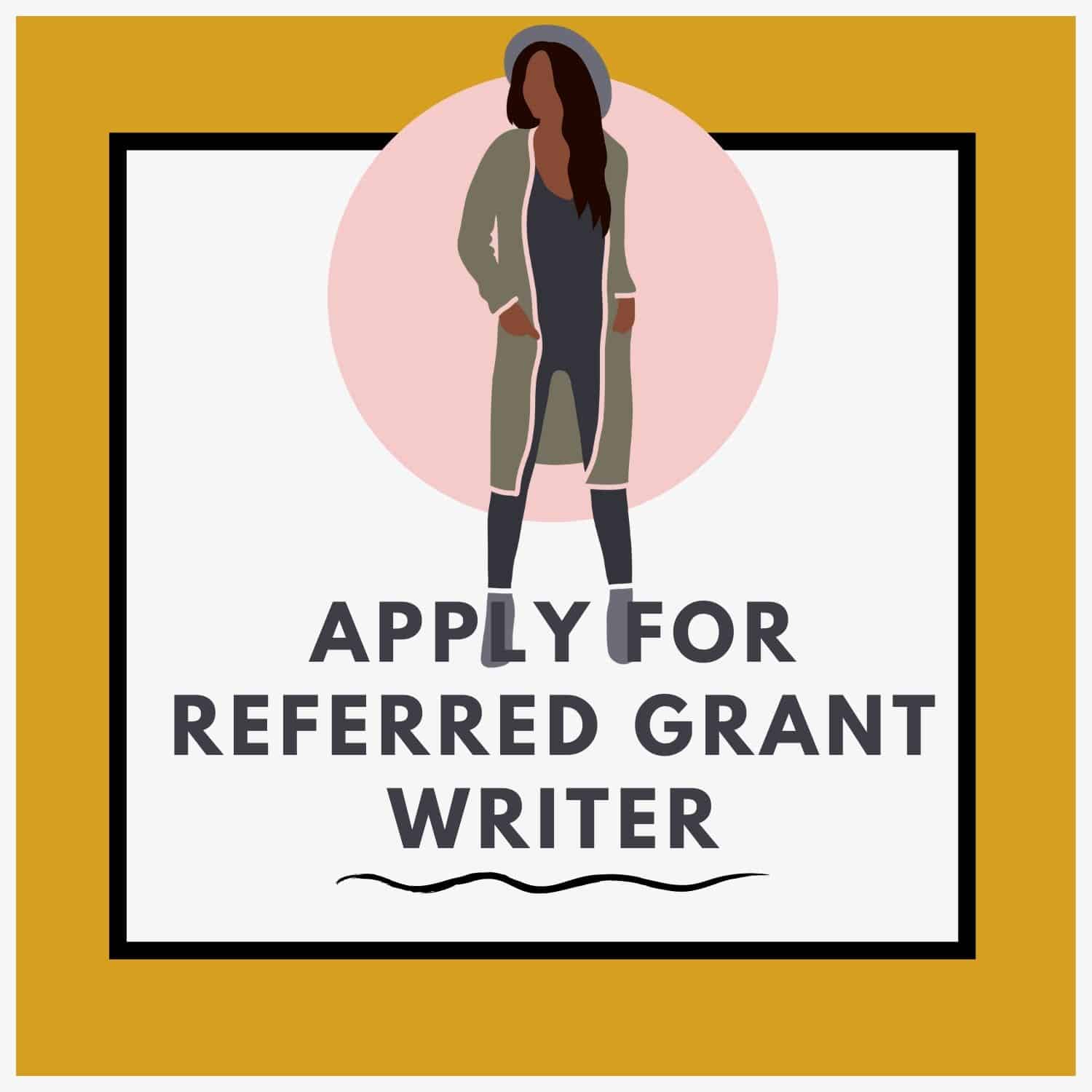 Referred and Preferred Grant Writer on Holly's Website
You will get access to become a referred and preferred grant writer on Holly's Grant Writing & Funding website! This is HUGE, and it's a new value for the 2022 Mentorship! Why is this so amazing?! Well, Holly has been working on her website for YEARS and invested heavily into SEO and more. She gets a lot of people reaching out to her to be a grant writer but she rarely takes on clients any more. In this way, you will get to be listed on her website and get personal referrals from Holly when people reach out to her. That type of marketing takes years to develop (and lots of moolah!). Wowza!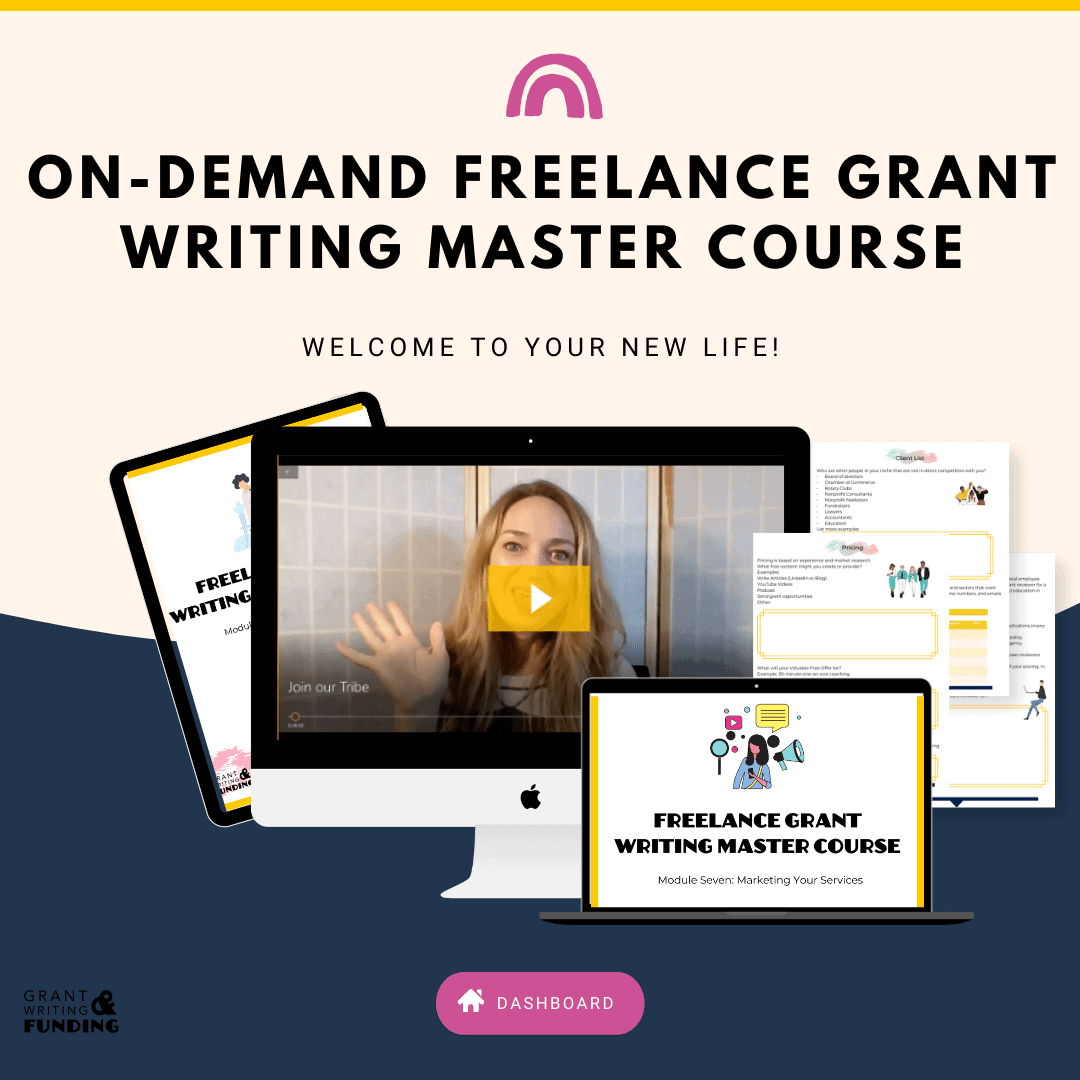 On-Demand Freelance Grant Writer Course
Get everything you need for a successful grant writing business!
Module 1: A to Z on Setting up your Business
Module 2: Identify your Ideal Client
Module 3: Create Mission and Branding
Module 4: Live in Joyful Productivity
Module 5: Develop Value-Based Pricing
Module 6: Communicate Authentically
Module 7: Manifest Magic Marketing
Module 8: Diversity Your Revenue
TONS of templates, workbooks, and videos!
Click here to find out more
$997 Value!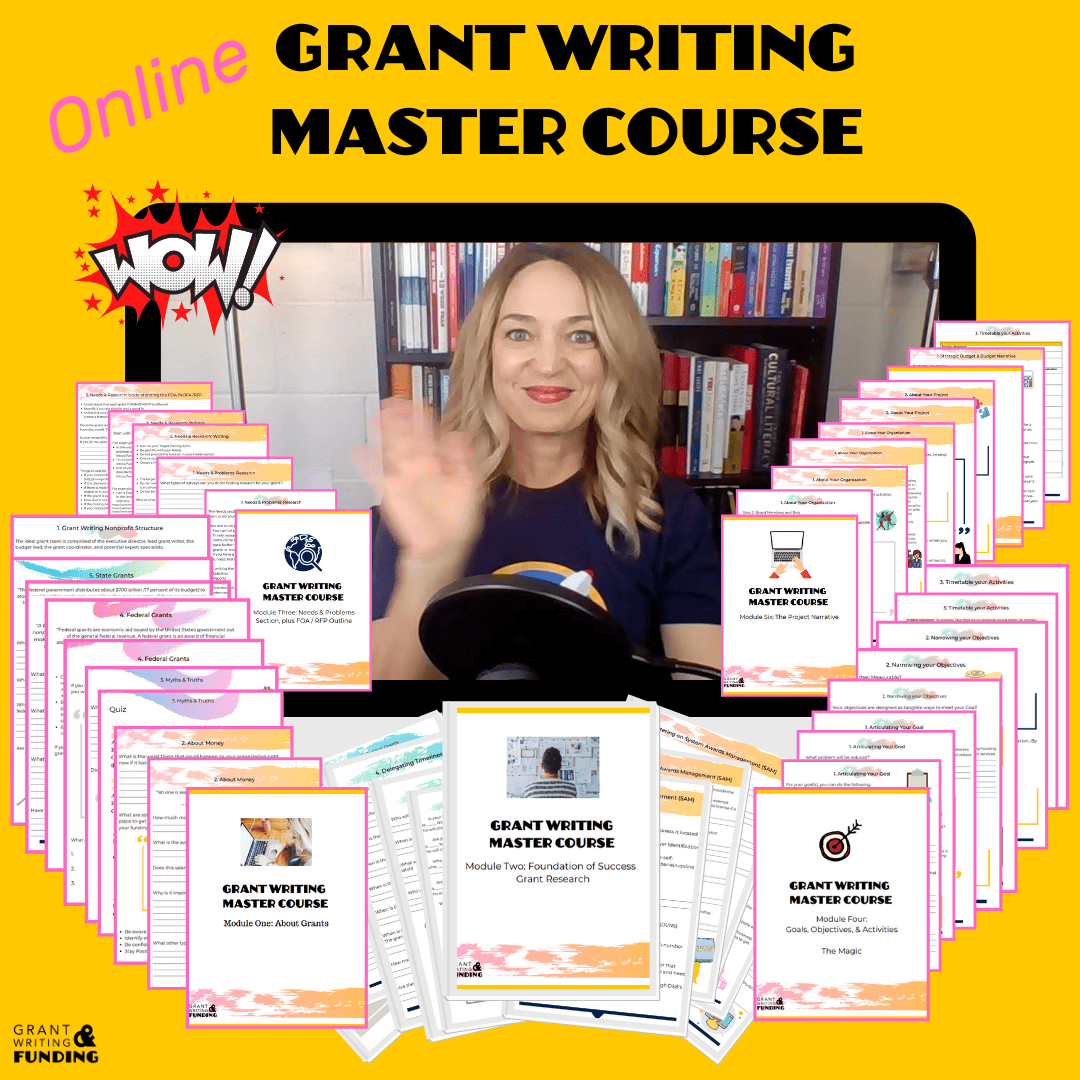 On-Demand Grant Writing Course
Get everything you need to learn how to write and find grants! 
Module 1: All About Grants
Module 2: How to Find Grants & Submit Them
Module 3: Articulate Needs & Target Population
Module 4: The Magic of the Grant (Goals, Objectives, and Activities)
Module 5: The Budget & Budget Narrative
Module 6: The Project Narrative
TONS of templates, workbooks, and videos!
Click here to find out more
$697 Value!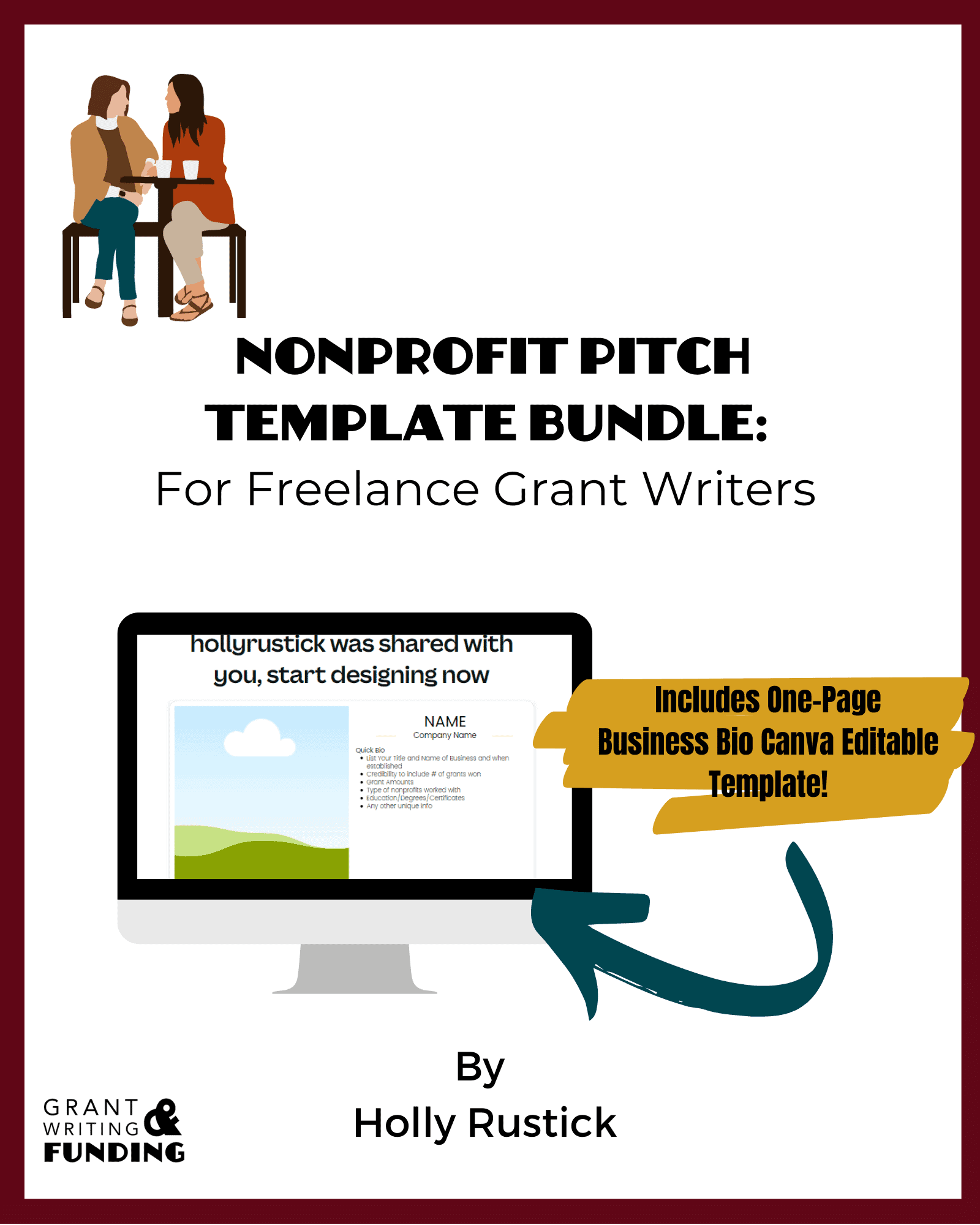 Nonprofit Pitch Deck
Be confident when pitching nonprofit clients
Pitch script to Nonprofit Associations
Pitch Script for Social Media (Direct Messages)
Pitch Script for Emails to Friends and Family
Pitch Script to Chambers of Commerce
Capabilities Statement Template in Canva
$97 Value!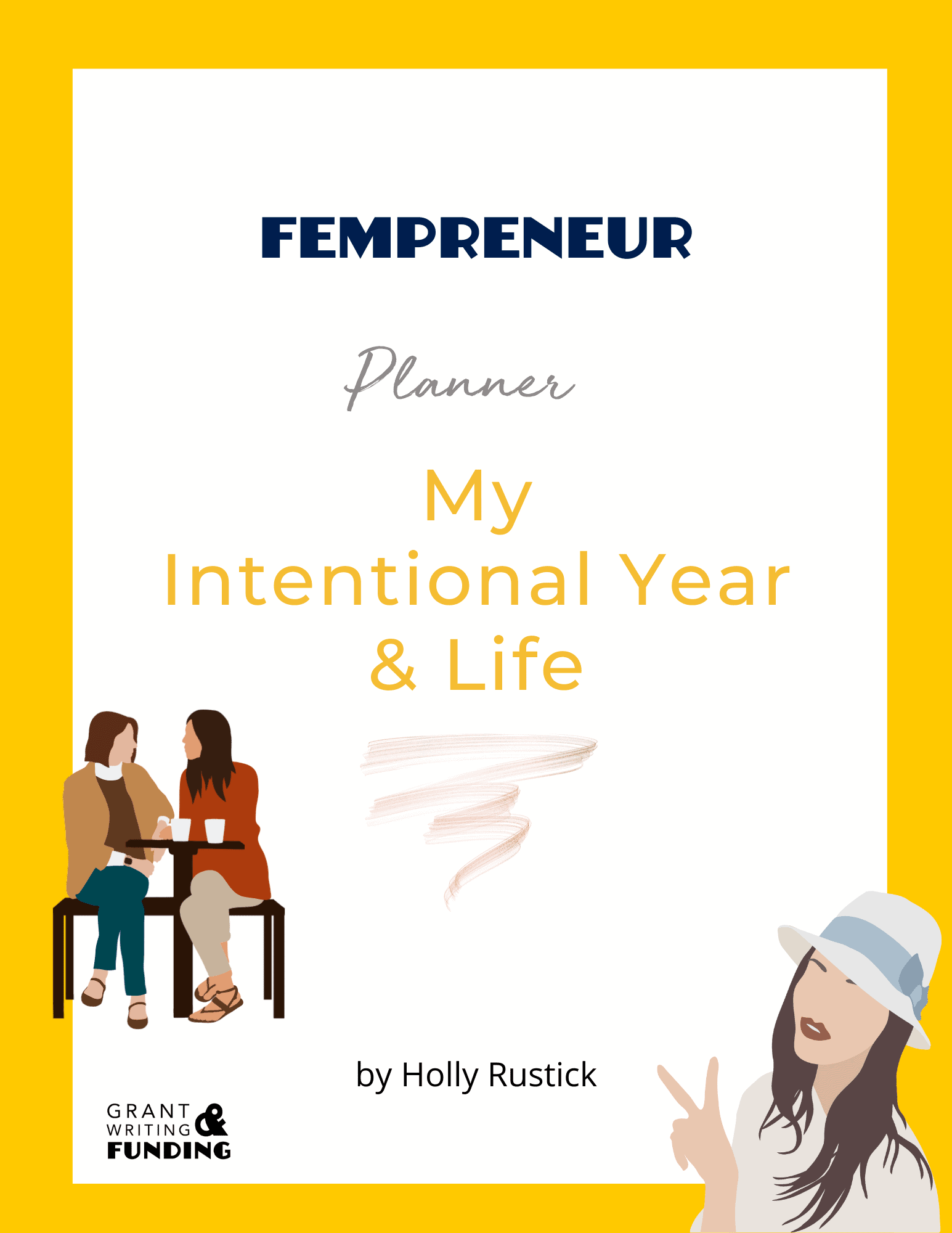 Fempreneur Planner
Get a year-long roadmap for the rest of 2022 (and beyond!)
Financial planner
Create your top goals
Monthly planner
Quarterly planning
Organize your time for optimal productivity
Reach your goals with an easy to follow  planner!
$47 Value! 
If you don't make 2023 your year…
Your business might not grow and you will doubt yourself forever.
You will operate on a shoestring budget and remain in lack, thinking something is wrong with you.
You may not be able to pay yourself! Everything keeps going back into the business!
You don't have accountability to build your business. The only one who really knows what's going on in your business is YOU. And even you don't always know what's going on!

You don't have someone to ask freelance grant writing questions. Sure, lots of people throw you advice but none of them work with nonprofits as a consultant!

You need ideas and feedback to build your business from other people who are actually doing the same thing!
But the problem is that you don't really know where to start with growing your consultancy.
How do I get clients on a consistent basis?

How can I be productive while still having freedom in my schedule?

How can I get confident in my pricing? (what should I even be pricing?!)
What Makes the Grant Professional Mentorship Different?
#1: It is designed for freelance grant writers by a freelance grant writer
There are a lot of business memberships and master minds out there, but there are no mentorships that focus on freelance grant writers.
Why is this important?
Well, as you may know working with nonprofit clients is very different than working with for profit clients. Plus, many industries may give you general business knowledge, but we discuss how to:
price grant writing services
negotiate with nonprofit clients about your grant writing success
understand why the freelance grant writer industry has so much poverty mindset (and hot to overcome it!0
sell your grant writing services
and more…
#2: It's simple
If you have hundreds of hours of content, weekly long sessions, and lots of homework you are not going to do it.
We need simple tools and methods that do just enough to: a) free up some of our time and b) make sure we get the strategies done!
The 2022 Grant Professional Mentorship is where we meet up live twice per month. You have a book once per quarter.
It is simple, but loaded with the vital steps to move forward.
Plus, you can become a preferred grant writer (i.e. Holly's website is SEO optimized and she gets people looking for grant writers all the time).
#3: It is a quarterly-focused mentorship
We focus on our goals every single quarter. You will need to report on your WINS, goals, challenges, and money goals.
"What gets measured gets managed" – Peter Drucker.
If you are not evaluating your business, you will be stuck in a tailspin of burnout. You will be hopping between website, pricing, social media, and checking your email (sometimes all in the same hour). No more.
When you join the 2022 Grant Professional Mentorship, you will be focused and have a supportive group to keep you accountable.
Who Else Has this Helped?



How will your Freelance Grant Writing Consultancy Grow?
What you want is to increase the effectiveness (and income) of your business in a sustainable way without it taking all your weekends, weeknights, and vacations.

You want to have accountability so you can be effective in your business.

You want to be happy and to actually earn a living so this business can work.

You want to never miss getting out a proposal again.

You want to get your questions answered about that new proposal, pricing on service, or challenging client NOW. When these issues come up in your business they paralyze you, then imposter syndrome sets in. You need to get out of that!

You want to relieve the stress of feeling isolated. People say their interested, but your spouse's, friend's, or neighbor's eyes glaze over when you start talking about your business.
Every successful freelance grant writer has a feedback system in place.
Accountability and feedback are imperative in moving forward with intention.
Sure, you could bulldoze your way through (I know most of you grant writer are type A personalities), but that will lead to burnout. Believe me, I've been there.
Successful freelance grant writers have learned to set time aside to focus ON their business and not just IN their business.
They do this by having accountability, time for reflection, and strategic planning. They also include a feedback loop system so that when those questions arise, they can get feedback on how to quickly move forward.
They know when and how to increase pricing. They know what their value is.
The 2022 Grant Professional Mentorship will guide you on your successful grant writer sojourn.
The Accountability Calls are key in reflecting and planning your quarters with intention.
The Master Classes will give you the knowledge and tools to work on specific drivers in your business.
The Hot Seat Workshops will give you an opportunity to share examples from your business and get feedback!
The Book Club will drive forward your personal and professional skills.
The FB group will give you ongoing accountability and resource sharing.
The Preferred Grant Writer Posting will give you access to client leads! (You'll be posted on Holly's website!)
Are you going to ensure that your freelance grant writing consultancy is successful and prepared for the year?
Now is the time to make the decision about what's next for you.
You can keep on doing what you've been doing, and keep getting the same results. You can keep pushing back the success of your business.
Or you can learn from my experience of working with freelance consultancies  — and save yourself years of frustration and spinning your wheels.
To reach your goals of sustainable funding for your freelance grant writing consultancy, you have to make a change.
I've spent thousands of dollars and years of work to get the level of success I'm offering you with this program.
This is what you've been looking for: proven methods used by freelance consultants that will have you grow your business with intention and joy.
Let's get energized and focused. Because if you don't do it now, the chances of doing it "someday in the future" are slim to none.
This Grant Professional Mentorship has helped me increase the growth of MANY freelance grant writers and now YOU can have it to help your business!