I've written hundreds of grants to date, but when I think back to the first time I opened a blank doc and started drafting a grant… I cringe. Hard.
I knew nothing about crafting a deliberate grant application. My writing strategy was haphazard at best. It didn't feel great.
So before my next grant project, I devoted hours to learning from the best that I knew. Today, I turn down many more clients than I accept, and my grant projects have led to tons of new business.
Want to know what I learned?
Sign up for my Grant Writing Master Course and feel confident the next time you are asked (or paid!) to write a grant! Plus, be more likely to get your grants funded!
This Course is for you if…
You deserve to know how to write winning grants.
Here's how this Master Course will help.
I remember when I realized that I had something really big to offer to aspiring grant writers.
I had written nearly a hundred grants and my friend happened to be running a nonprofit. She said she wanted help writing a grant, but didn't want me to write it as she wanted to learn how to write one.
We set a weekly coffee date: one hour a week totally devoted to building her skills and refining her grant application.
After a month she submitted the grant. After three months, she found out she won the grant! Today, she has secured many grants for her nonprofit organization.
This inspired me to start offering grant writing workshops. I saw the same type of results after coaching others through the process. I offered handouts, but soon realized I needed to write a book! After publishing my first grant writing book, I got tons of emails from people saying that they had won grants due to the processes and templates in my book!
That book has now been revised and has hit #1 in 10 categories on Amazon, helping out countless people, as well as being required reading in a University.
If my friend could do this, and many others all around the world, I know you can, too. I've seen what gets results—and I'd love to share it with you.
You will want this Grant Writing Master Course, if…
However, you're struggling with two things.
How does one even start to write a grant?
Where does one find grants?
How can I turn the past no into a future yes for funding?
First, you just don't know where to start and are overwhelmed.

Second, even if you do find grants to write, you won't know how to efficiently get the grant proposal done so you will waste huge amounts of time and not make enough money.

Third, you aren't confident in writing grants so won't successfully get the grants.
If you don't figure this out, the nonprofit you work (or many you work for) will not receive all that funding that you know they can! Believe me, I've been there. It took me years to figure out how to write grants, but I've taken all my knowledge and turned it into a tangible system for you!
The nonprofit you work at will suffer if you aren't there to advance your grant writing skills. Or if you are a nonprofit consultant, the many nonprofits you WANT to serve through grant writing will suffer because you haven't upped your game.
Deep down you really know that if you just had a system and resources that you can succeed in writing grants. Heck, you are even interested in doing it!
You really do want to help nonprofits get funding. You really are passionate about their growth.
If you could just tap into that talent and passion you have for writing, then wow! Just maybe your help could employ jobs for people, get domestic violence shelters funded, build schools, fund research projects that find a cure for a life threatening disease and basically help make the world a better place.
Without you taking the next step, all of these programs, dreams, and needs will not be fulfilled…that school, hospital, or community center will not be built.
But the problem is you really are not confident in your grant writing skills.
Let's face it, you've only written a couple or you haven't written them for years. You need to build up those skills.
What YOU want is to efficiently write grant proposals and help nonprofits win grants.
You want to work from anywhere in the world, while helping nonprofits and organizations create a positive impact in their communities through funding.
You want to be the 'go-to' person that people in your community turn to when they need help to secure project funding.
You want to feel and BE confident when talking to nonprofits about projects that they are passionate about.
You want to make an impact in your world.
HAPPY CUSTOMERS!
Sold to nearly 1,000 students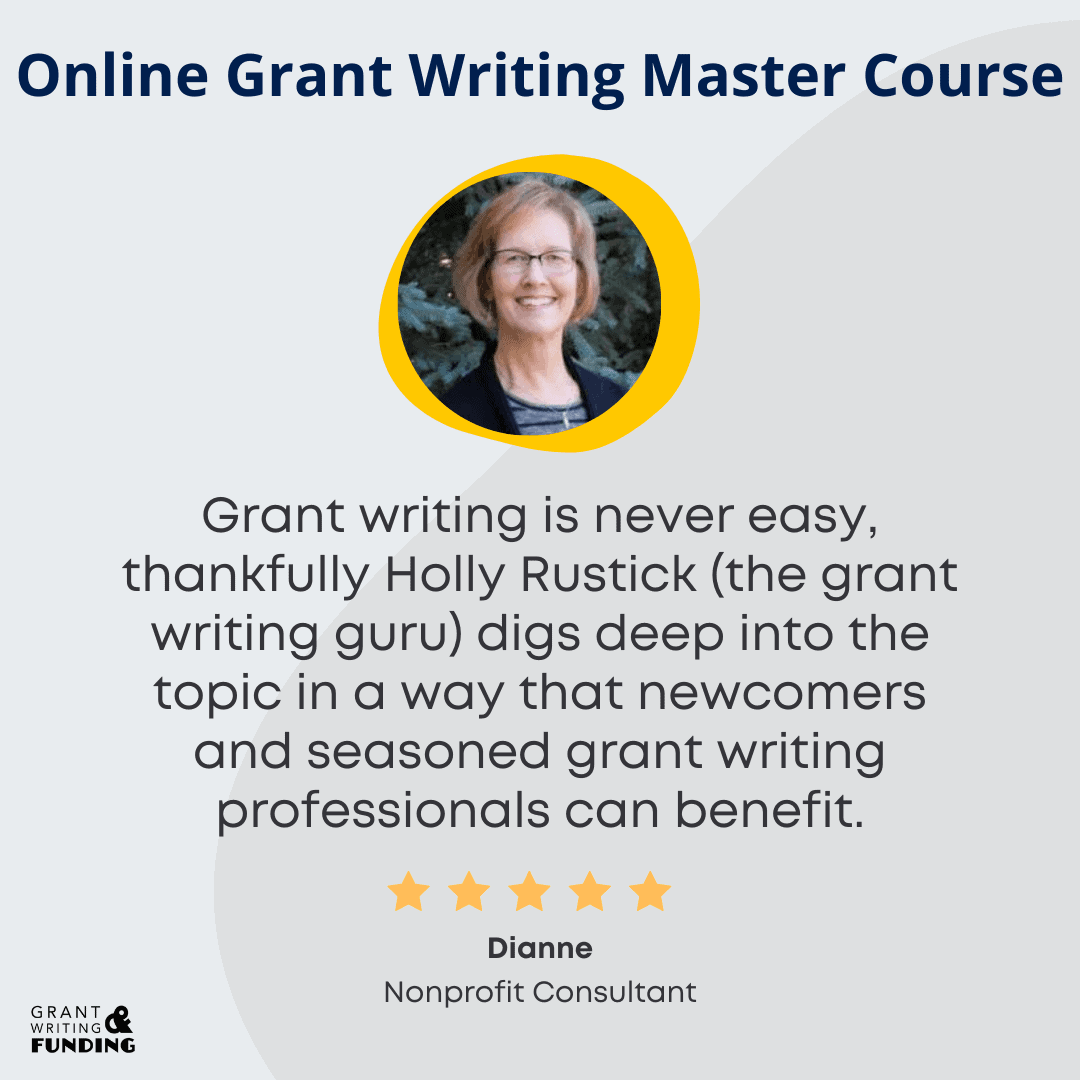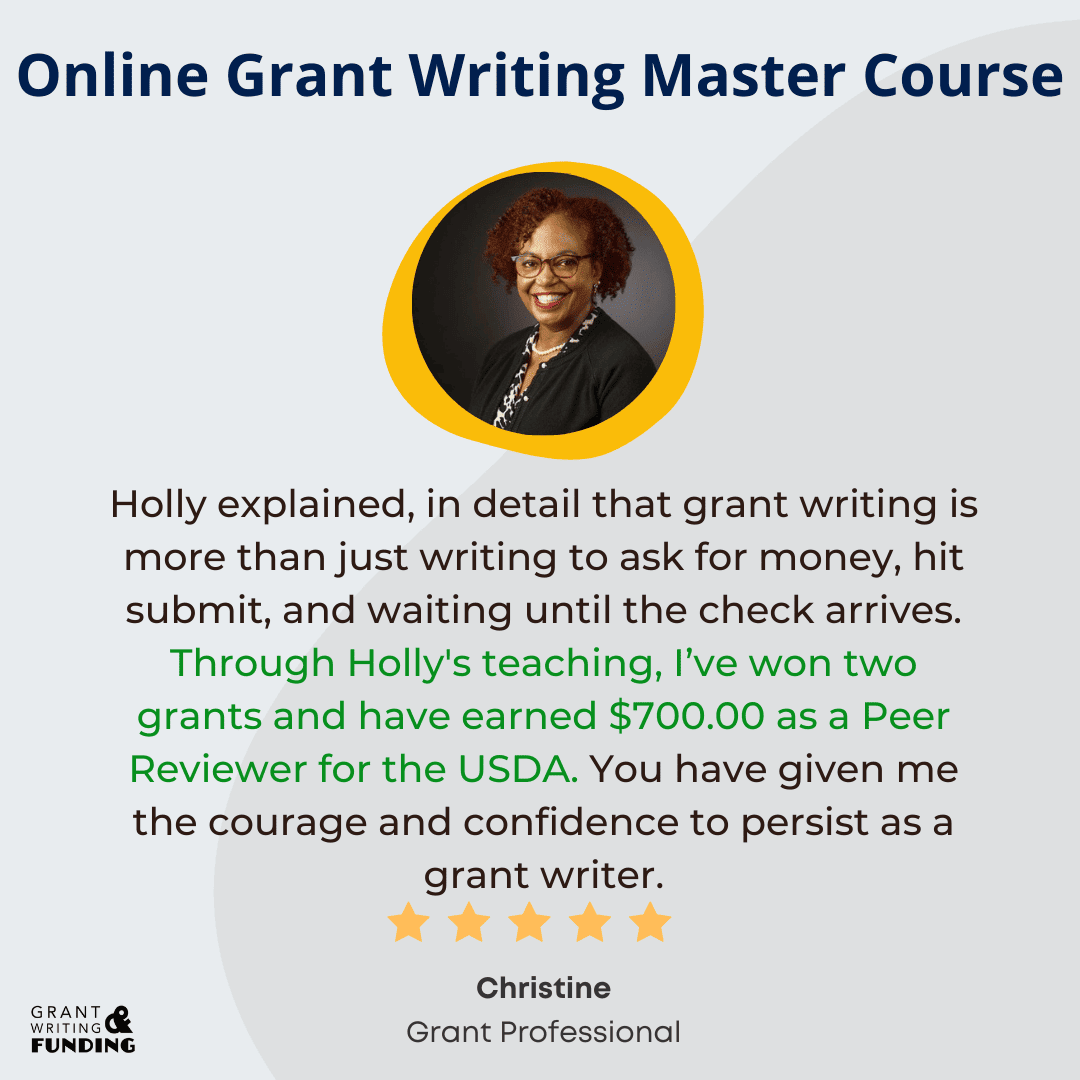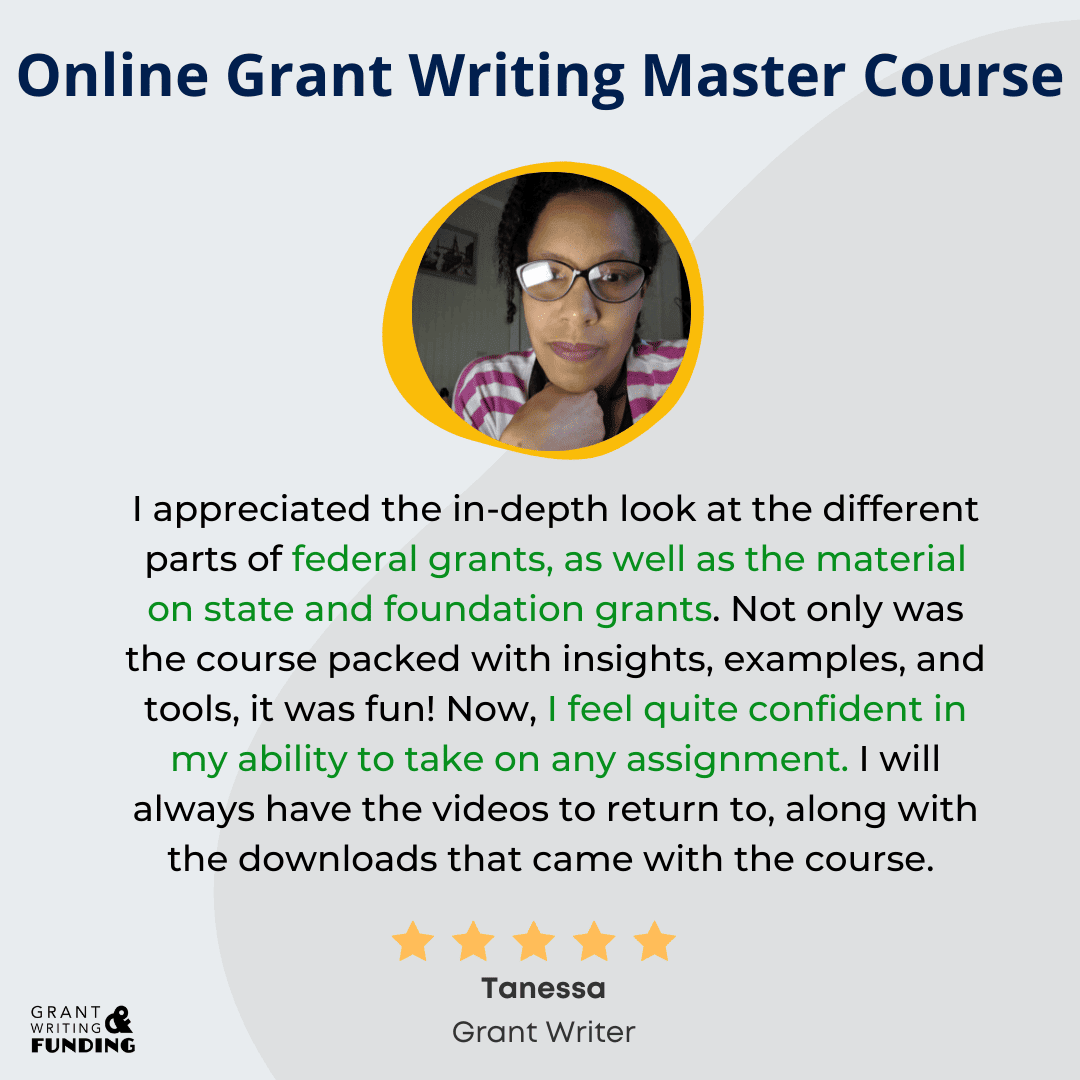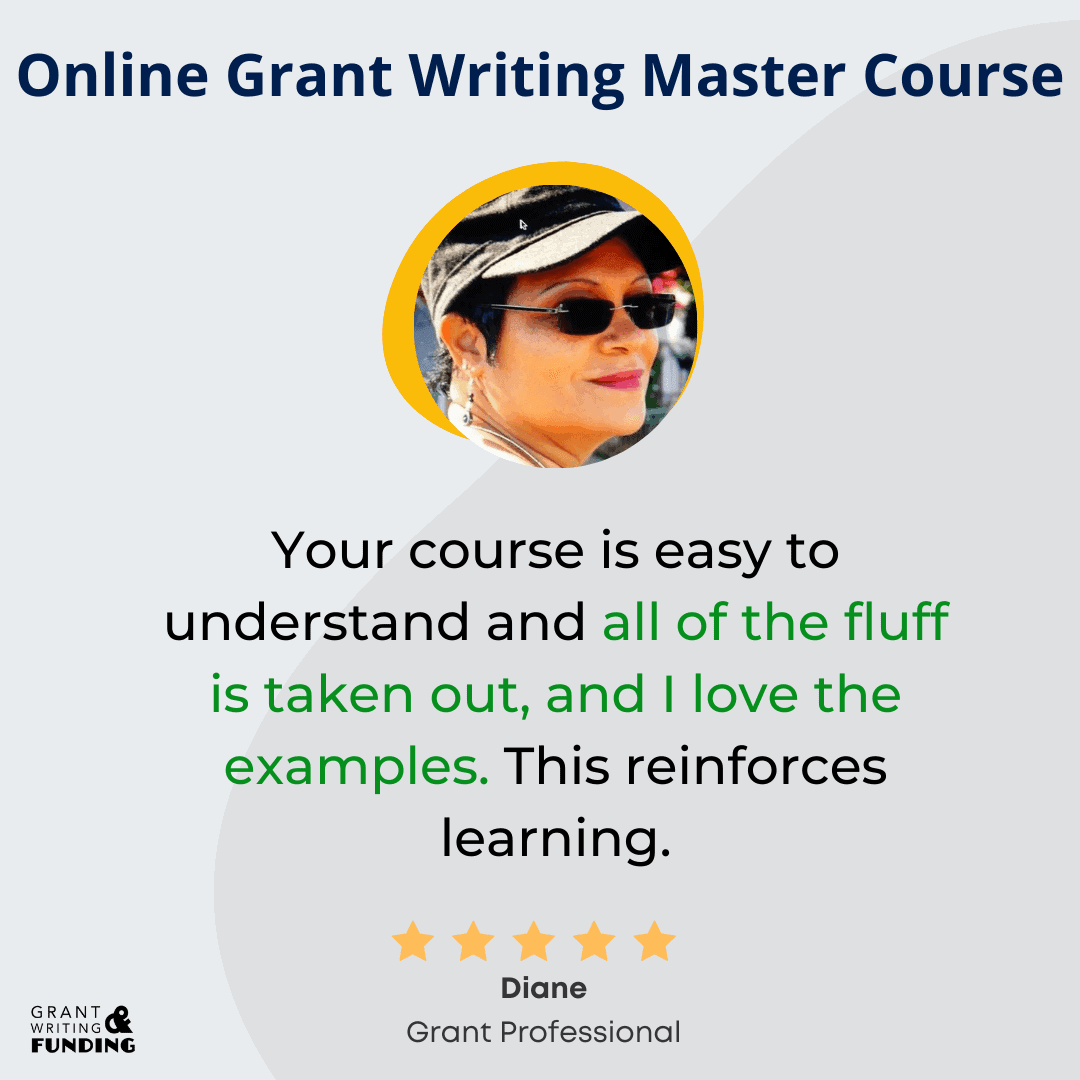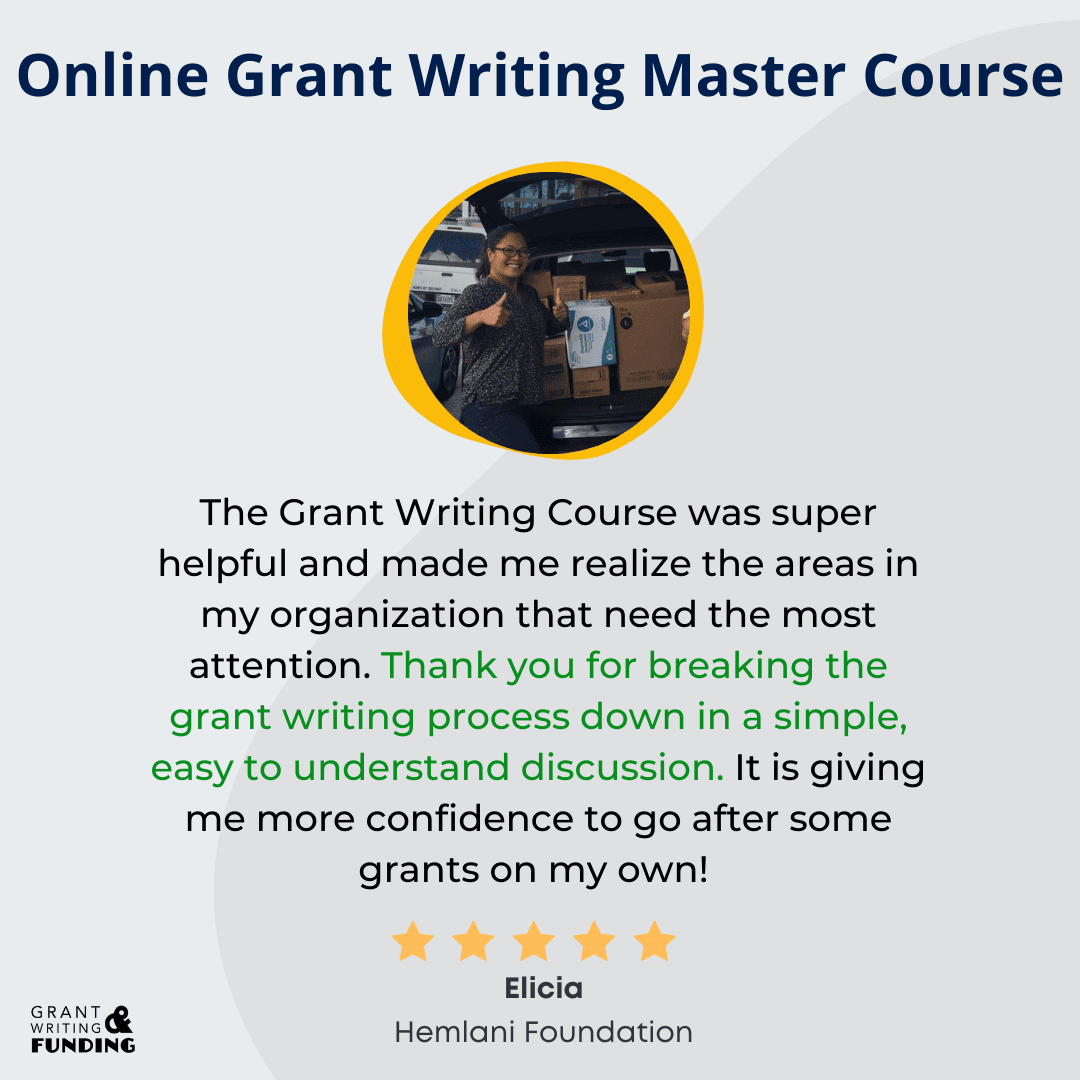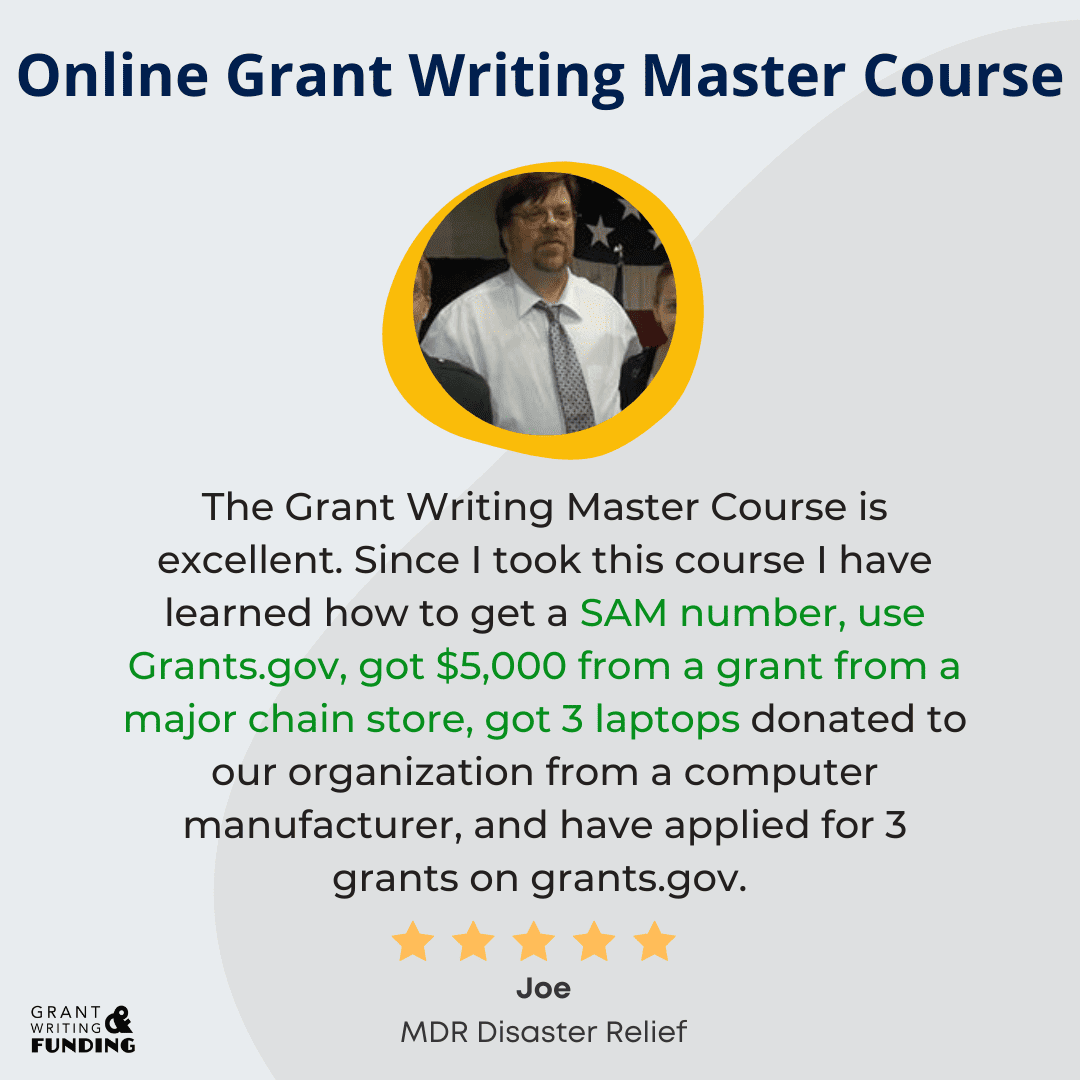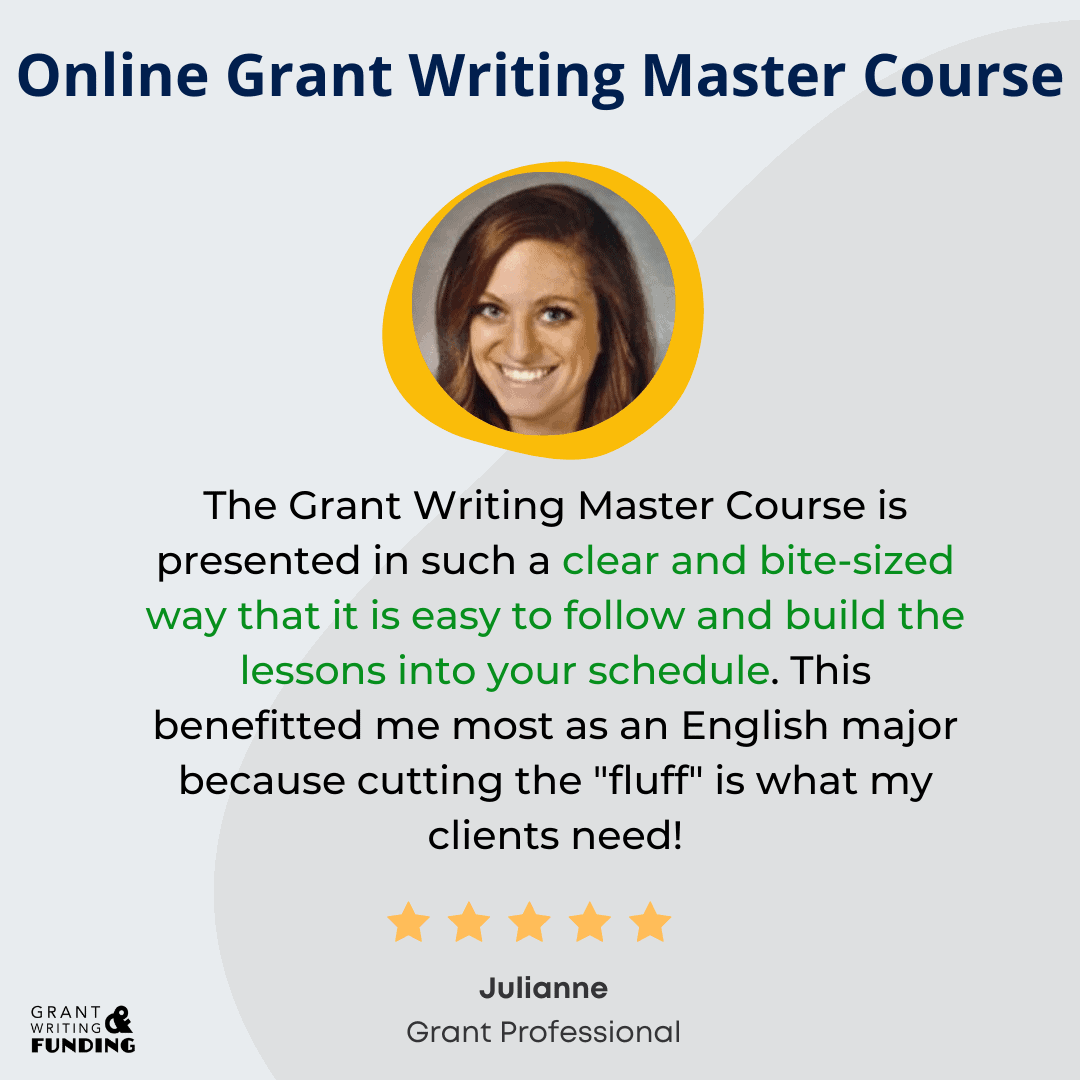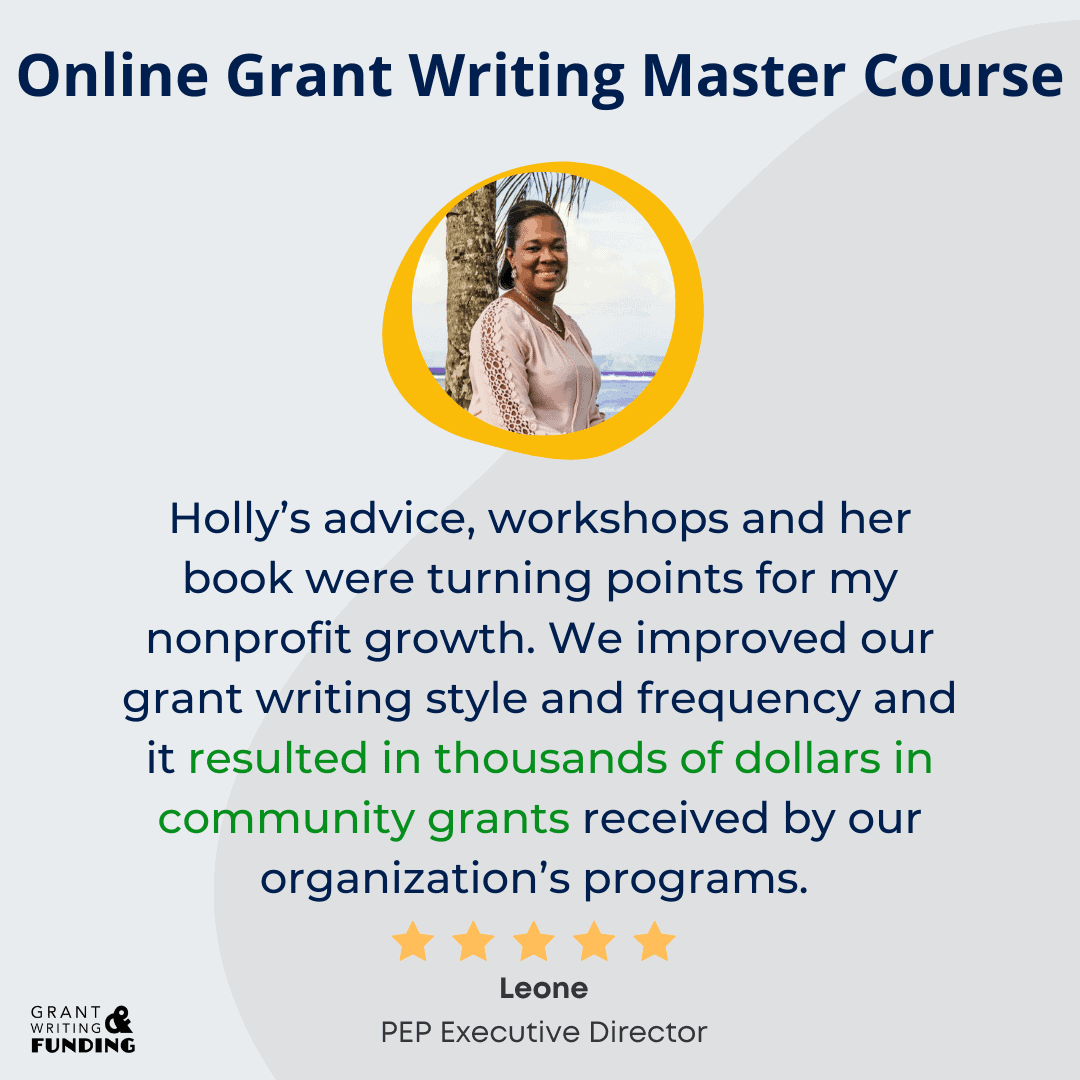 Monthly Facebook Lives to Answer Your Questions ($250+ Value)

6 Modules (30+ videos) Checklists, Logic Model Templates, Budgets, and More… ($697 Value)

A Community of Like-Minded Changemakers! (Priceless)
Lifetime Access to the Course with Updates

Samples of Awarded Federal and Foundation Grants (Priceless!)

A Grant Writing Certificate!
The Grant Writing Master Course is a Six Module online training walking you through everything you need to know to learn how to write grants and where to find them.
Each module gives you a new training walking you step-by-step through a core principle that will help you learn how to write successful grants.
Also, each month, I host a live Q&A where you can ask me any questions you have through the process.
You're at the point of decision.
You can either continue down the path where you have a passion and desire to make a difference in the world and leave a legacy with your work, but you don't take the next step.
Instead, you backtrack down a path that is familiar and comfortable and where you'll wind up in the same place you've always been; wishing you could make a real impact. But if you want something different to happen, if you want to change the direction of the funding that you can help nonprofits secure and of the impact you can make in the world you're going to have to do something different. Make a decision to be your 'different' and to be that change agent.
I look forward to working with you!
Holly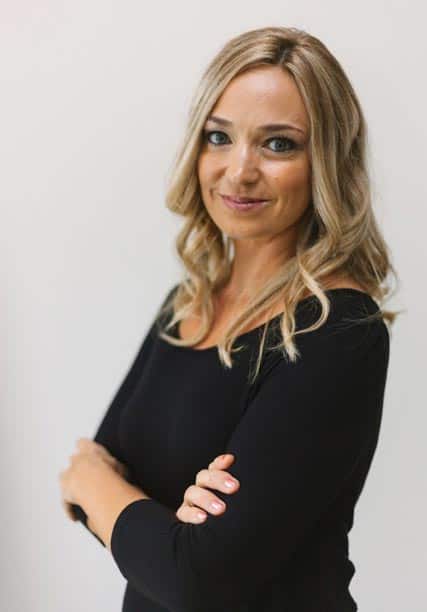 First, we have to define the word success.
If you're hoping to find a silver bullet that requires very little work on your part and still guarantees your grant writing is successful, then this program isn't for you.
However, if you are looking for a system that has a proven track record of getting grants awarded, then the Grant Writer Master Course is a perfect fit!
We cannot guarantee that your grants will get awarded (there are WAY too many factors); however, this is the proven system that Holly and hundreds of students have used to get grants awarded.
You have instant access to all modules (videos and downloadables) to the Grant Writer Master Course.
It is an online course where you go at your own pace and can come back to again and again in our online portal.
If you love to go at it alone and just want the course and templates to do at your own pace, then the Grant Writer Master Course is for you.
You will have access to our beautiful platform immediately!
This course includes massive information on how to find, write, and submit grants.
If you are wanting to know how to get paid to be a grant writer, check out Holly's signature Freelance Grant Writer Course.
You have unlimited access to this version of the course. All the material will be continuously updated!
Each of the 6 modules includes sub-lessons with a video for each sub-lesson.
These sub-lesson videos are, on average, 8 minutes long. However, doing the activities for each sub-lesson may take a bit longer. So this amounts to about an hour for each Module.
We recommend completing one module per week for six weeks. However, if you are in a crunch and need to learn grant writing skills NOW you can go much quicker.
If you are wanting to increase your grant writing skills, then YES!
The Freelance Grant Writer Master Course teaches you how to transition into becoming a freelance grant writer (side hustle or full-time entrepreneur).
The Grant Writing Master Course is only about how to write and find grants.
Absolutely! As long as you have internet you can access the course!
One thing to mention is that this course is geared more towards grants available in the United States and for U.S. tax-exempt nonprofits.
However, the basic concept of writing grants can be applied for funding sources around the world. Holly has used her formula to apply for United Nation grants, international foundations, etc.
Here at Grant Writing & Funding we have a no refund policy. Holly cares about the success of each and everyone of her students. She also cares about value of respecting one another's time.
She encourages you to take the time to read the sales page and email her ([email protected]) if you have any questions.
We are here to help if you need any assistance before and after joining the course.