"Congratulations, Freelance Grant Writer!"
Causes are waiting for you right now.
This course is for you if…
You NEED a proven step-by-step system AND templates to launch & grow your business Sole prop or LLC? Business name to stand out in the noise. Yaaas, girl.

You want to feel confident in securing clients. How much should you charge? What should you include in your proposals?

You want to build systems so you don't burn out running a business. As a freelancer, you might do it all, but I'll show you systems to automate and ways to collaborate. Magic Sauce!

You need accountability and a community of like-minded changemakers. Access to a private FB group and monthly Q&A? That's what I need!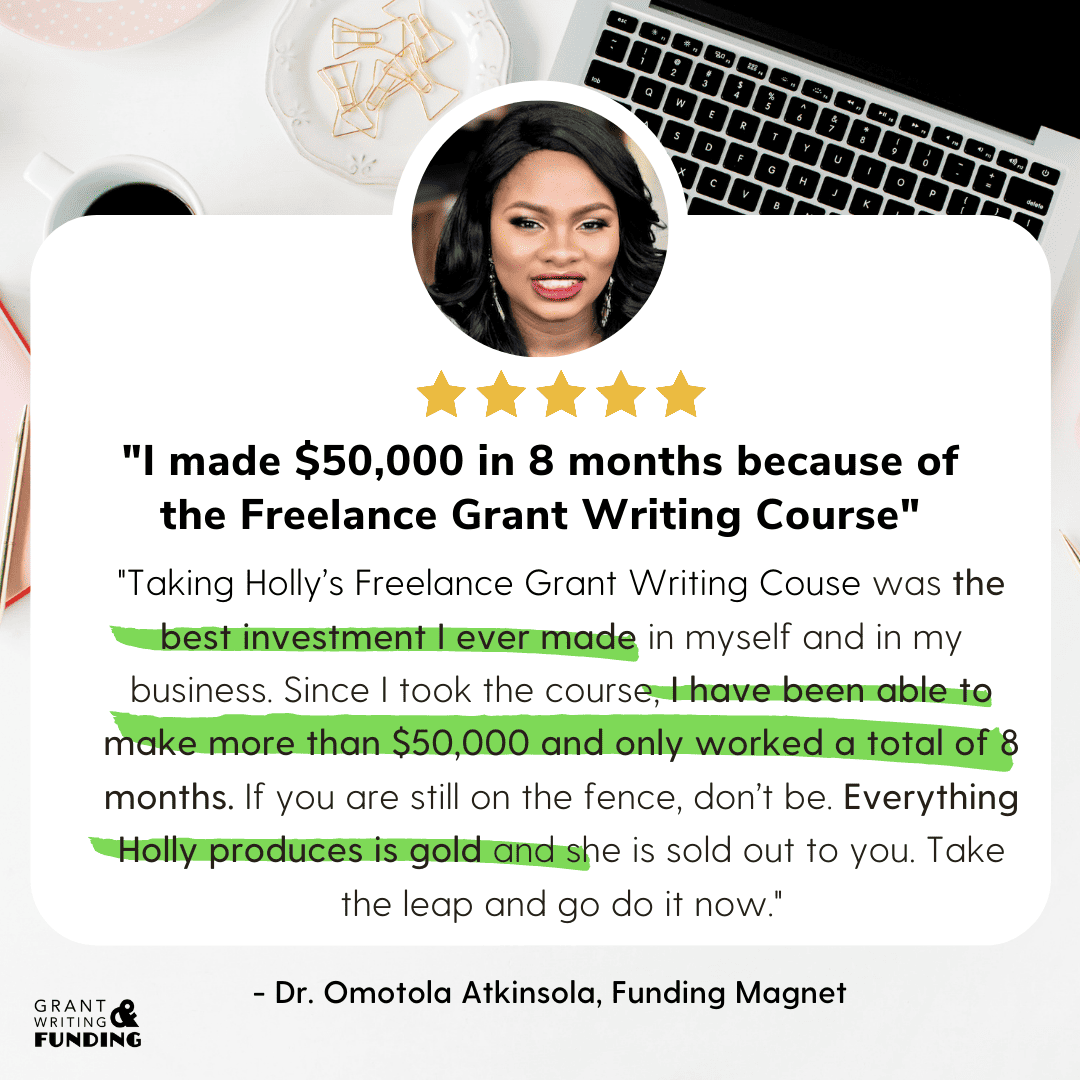 If you don't figure this out, your dream will never be fulfilled and you will remain in mediocrity.
1: Where would you even find nonprofit clients?
2: Not sure if freelance grant writers can make a living. (They work with nonprofits, come on…)
Believe me, I've been there.
A lot of people will suffer because you aren't there to help. And I don't mean helping by handing out food at Thanksgiving. Sure, there is a time and place for that, but you know you can do so much more. 
Deep down you really know that there is something much more that you can do.
And let's be real, you just aren't the standing in line kind of person. You do better behind the scenes where you can work at your own pace or need to work at your own pace (i.e. baby on your hip or maybe you've recently had a hip replacement!).
Your vision is big.
If you could just tap into that talent and passion you have for writing, then, wow! Just maybe your help could employ jobs for people, get domestic violence shelters funded, build schools, fund research projects that find a cure for a life-threatening disease and basically help make the world a better place.
And, maybe, just maybe, you can also get paid well while doing this.
Without you taking the next step, all of these programs, dreams, and needs will not be fulfilled…that school, hospital, or community center will not be built. The ability to work on your laptop while sipping tea at home just isn't going to happen.
But the problem is you really are not confident in knowing how to start a business.

Business is amazing–thanks to YOU! I've kept my full-time salaried job, but I now make more as a consultant. My life has COMPLETELY changed thanks to you, the resources you've provided, and the community you've fostered. I feel like such a Rockstar and I know the best is yet to come. I am so, so grateful for you, Holly.
Taking this course means
YOU
can!
Identify nonprofit clients that you are excited about and have a script when doing Discovery Calls!

Work from anywhere in the world while helping nonprofits create a positive impact in their communities through securing funding.

Get your business set up so it is legit!

Feel and BE confident when talking to nonprofits, and develop your pricing strategy.

Make a positive and TREMENDOUS impact in the world.
What the On-Demand Course Includes:
29 Videos and 44 Downloadable Checklists and Templates

($997 value)

Updates to this course at no cost! Yes, Holly continually adds content to this course and adds new downloadables and videos from time to time!

Freelance Grant Writer Certificate (Priceless Credibility!)

Access to a Monthly Live FB Q&As
$997
or 6 monthly payments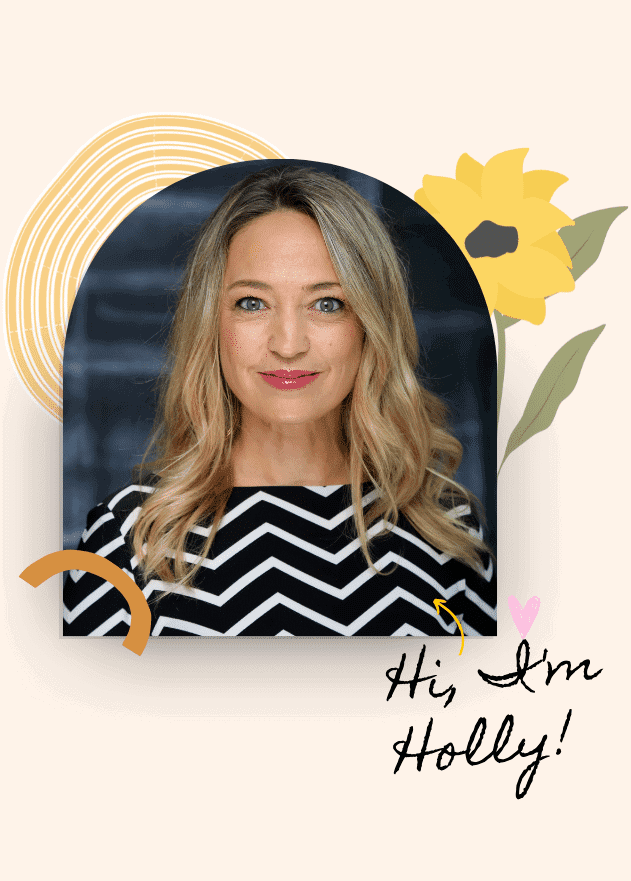 Hi, I'm Holly!
In 2014, I was working at a nonprofit, and in three short years, I had increased their annual grant funding from a few hundred thousand dollars to well over $3 million per year.
Yes, I did have grant skills, but I had no idea how to be a freelance grant writer.
Even though my check every two weeks was just enough to pay the bills, I still didn't see a reflection in the wealth I was creating for others in my own life. 
As a single mom, this was tough. But the tougher decision was to move forward and believe in me.
When I thought about it, I realized that I could help even MORE nonprofits (not just one!) while increasing my own pay.
I knew I needed to take the jump.
I felt it deep down. It was my way out of mediocrity and to increase my life and my daughter's opportunities.

So I did it. I put together a pulled-together a rough plan on how I could be a freelancer and resigned. During my final days at the nonprofit, I sat in my office and drafted the 'goodbye' email to all my contacts and let them know that I would no longer be working there, who they should contact, and that I was starting my own business.
I felt scared and empowered at the same time. It was exciting, but I did hover on that send button for several minutes as the sweat broke out on my forehead. I knew this was my moment. I thought about my daughter and I also thought about my self-worth.
My finger hovered another second, and then I hit the send button, exhaling deeply. I looked at the orchids on the windowsill and reminded myself not to forget them as they were a gift from a colleague. They seemed to represent uniqueness, hope, and strength. I prayed silently that I had all these traits.
Then something caught my eye. I had a slew of emails in my inbox. Yes, some were 'out-of-the-office' replies, but all the rest were filled with wishes of congratulations.
Then the final one I opened (which was also the first one sent to me as a response) was a job offer. My point of contact from a government agency asked if I would be willing to write a grant for them and wanted to meet up as soon as possible.
The tears that I had been holding back, sprung to my eyes as this was the hope that I had wished for.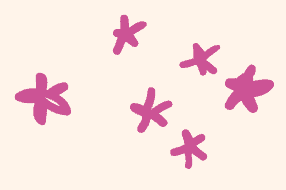 Since then, I have gotten these amazing word-of-mouth references. But I've also learned the ins-and-outs of how to run a business from the small corner of my house. Now my daughter is in the best private school in my community, I have paid off ALL my debts (including that nagging student loan), I earn six-figures every year, and I am able to choose who I want to work with.
It has been an amazing experience where I have also met some of the most positive and inspiring people in the world. And I have LEARNED and have GROWN so much in the process. Plus, I know coach so many others to get started and run a successful business!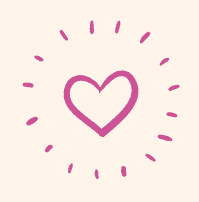 Now I want to give back and to help others do the same thing, although not with a 'thrown-together' plan, but actually with a framework that works. So that you have more confidence and are actually earning money before you make a transition.
This is exactly like Karen. She wanted to increase her grant writing skills and learn all the ins and outs about running a successful grant writing business, but couldn't figure it out and didn't know what to do even if she did get the work.
I was able to walk her through how to write grants and give her a system and then she got two grants awarded and landed a grant reviewer gig.

And Omotola secured $50,000 in working only 8 months! Plus, she realized she loves coaching nonprofit clients the most and has redeveloped her company charging more than she ever imagined.
What Students are Saying About the Freelance Grant Writer Master Course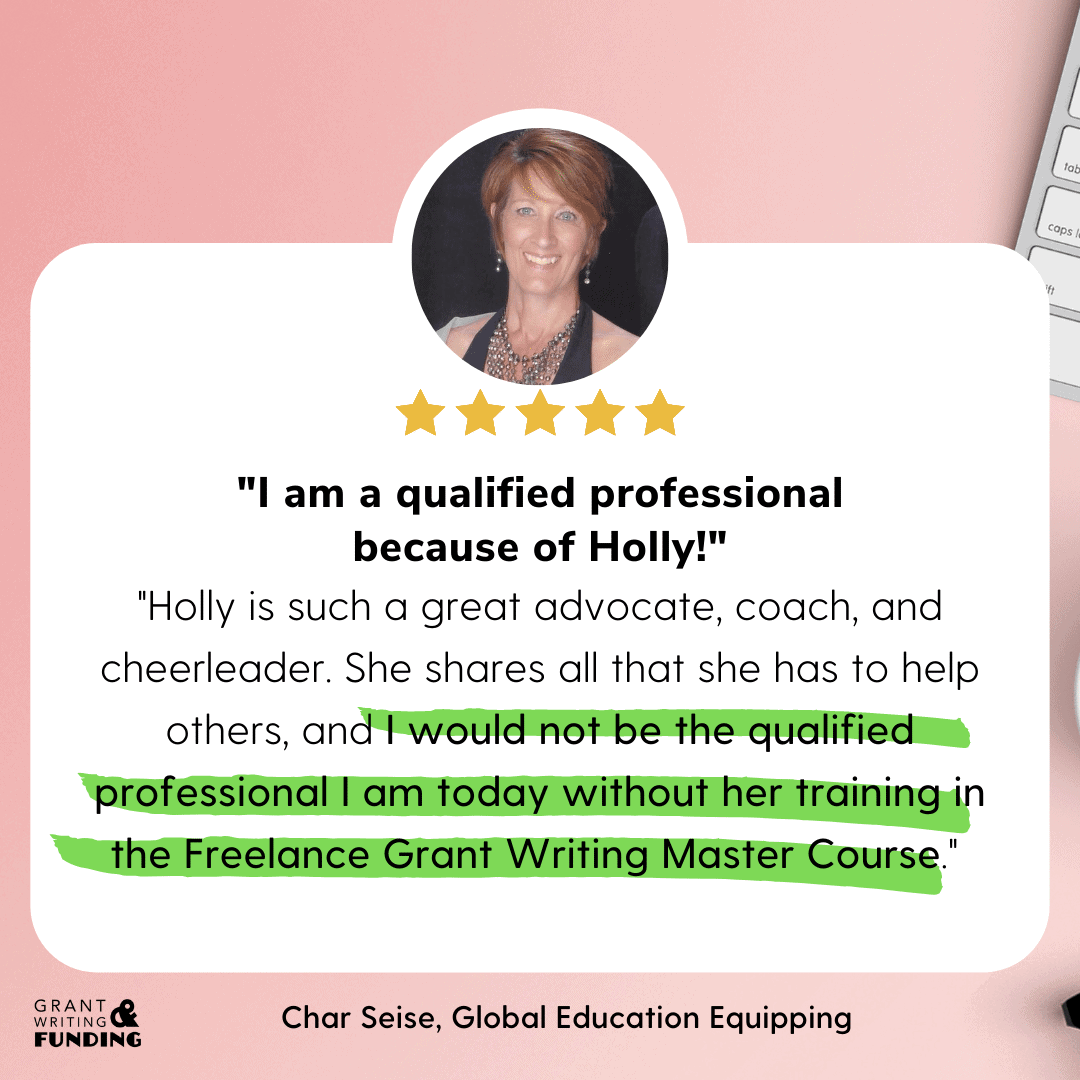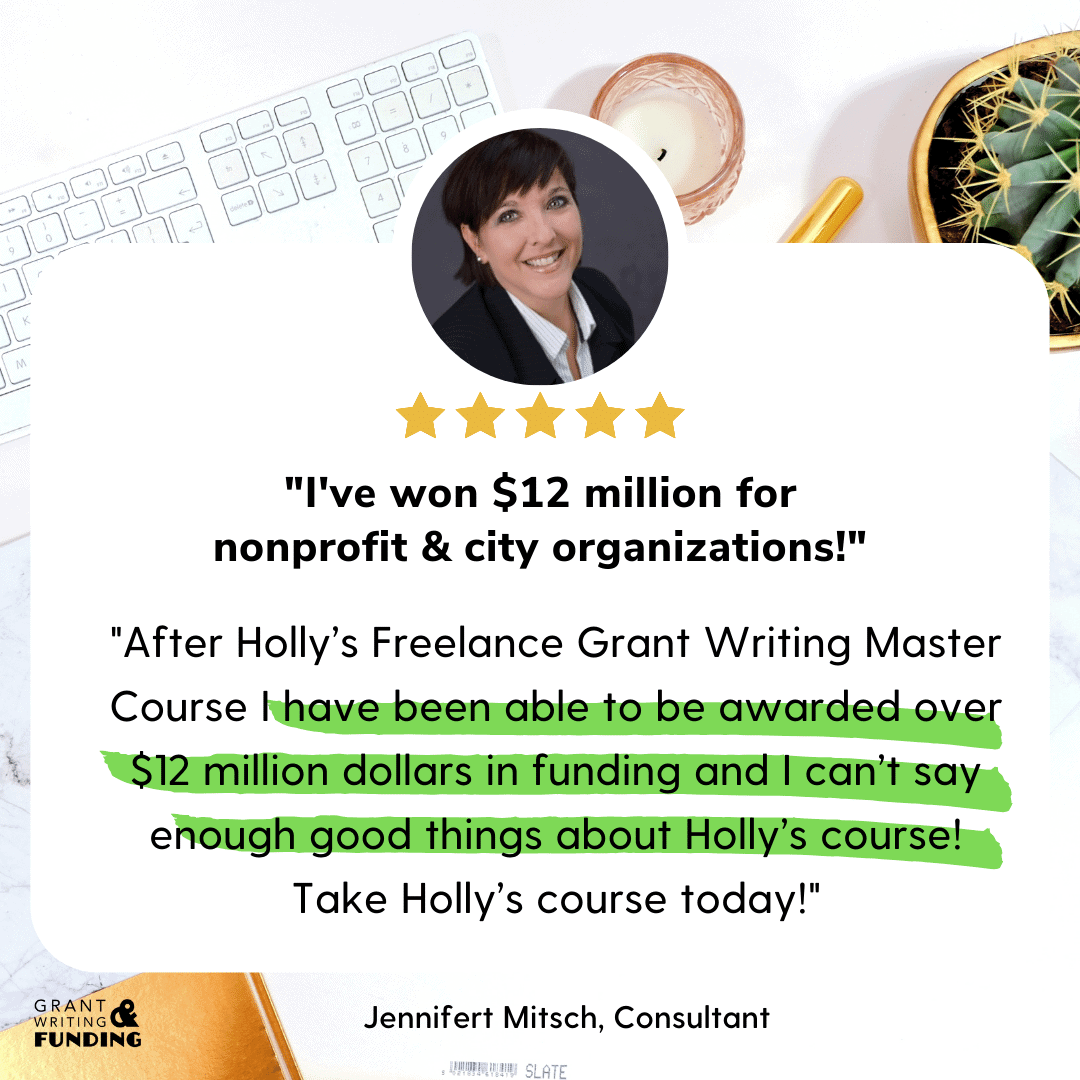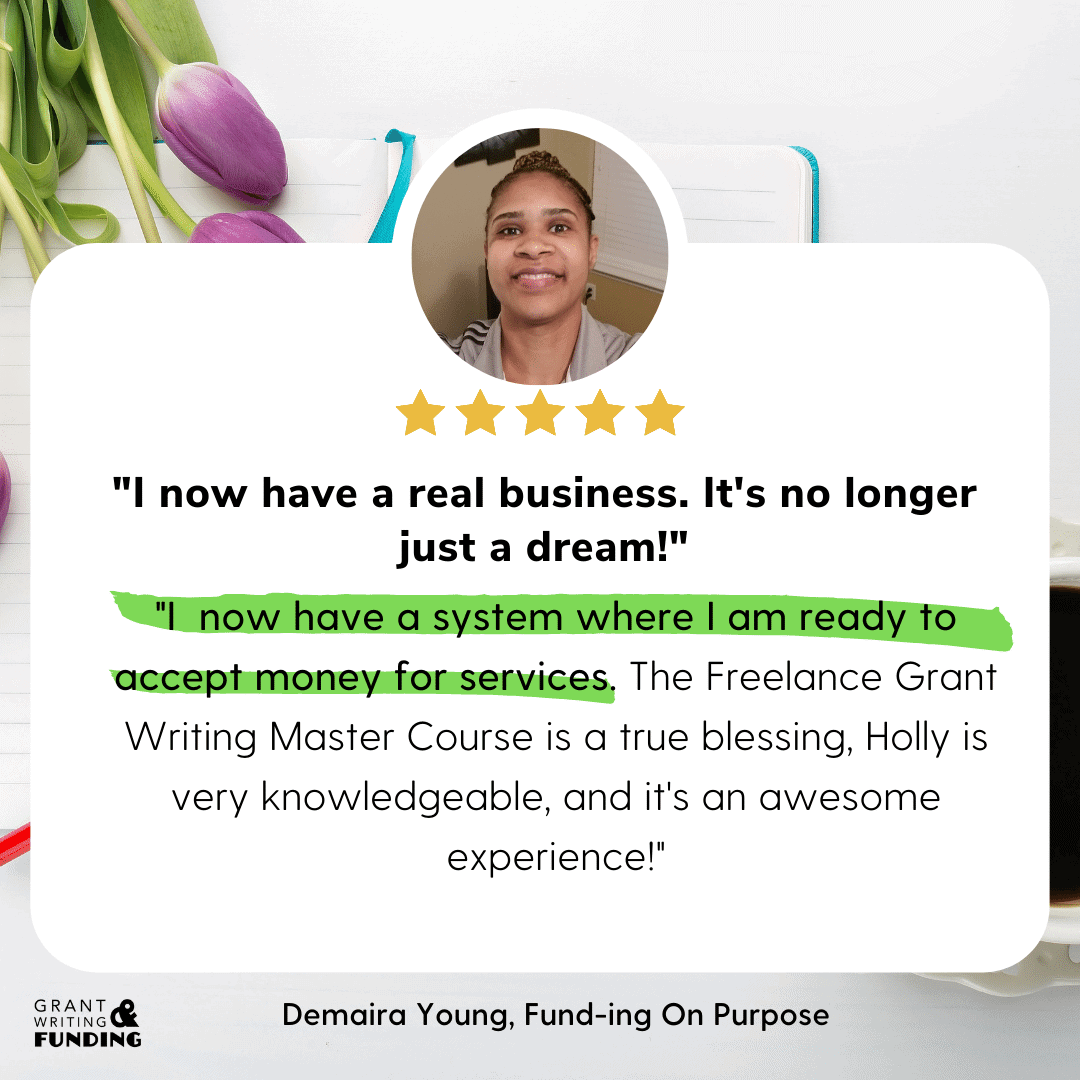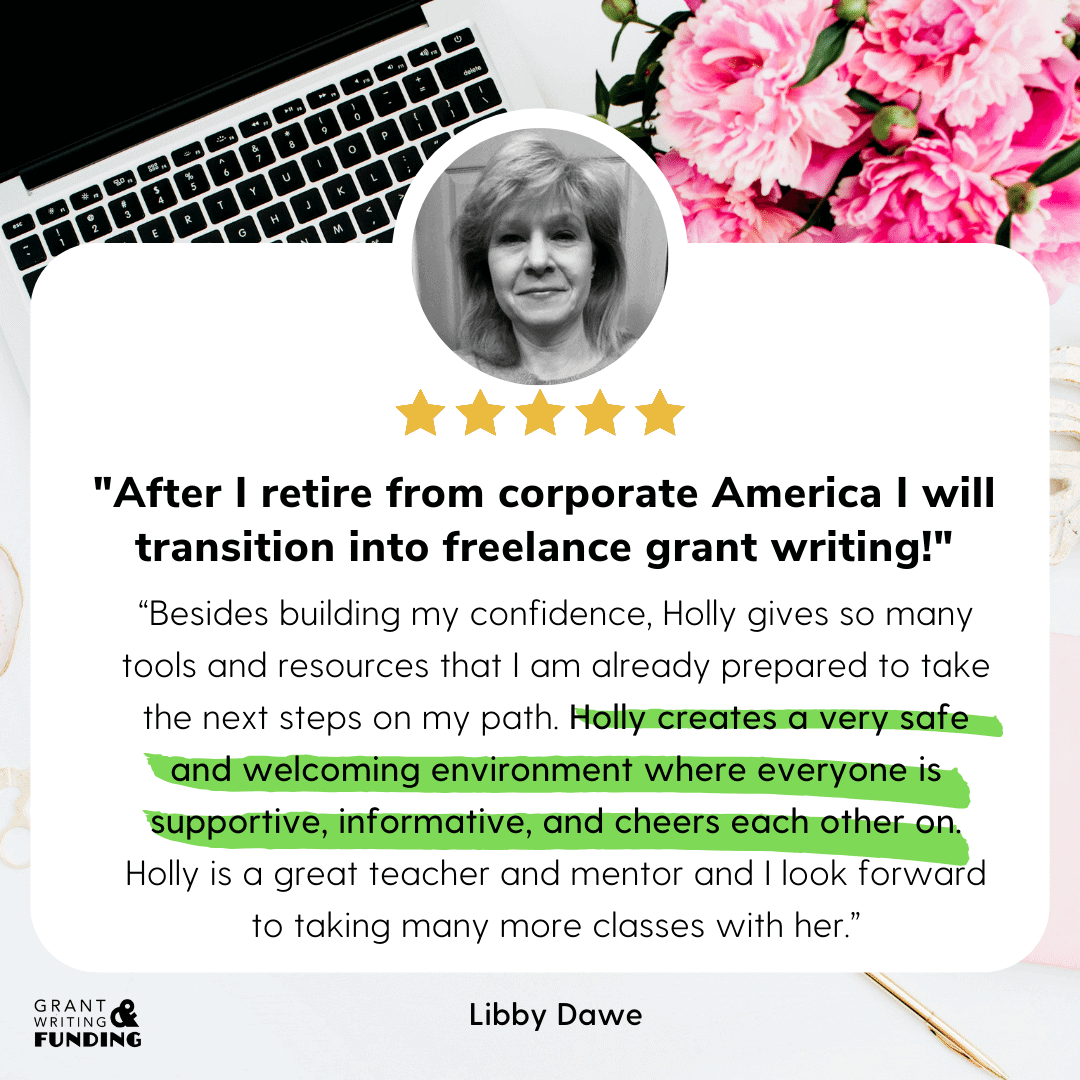 What the On-Demand Course Includes:
29 Videos and 44 Downloadable Checklists and Templates

($997 value)

Updates to this course at no cost! Yes, Holly continually adds content to this course and adds new downloadables and videos from time to time!

Freelance Grant Writer Certificate (Priceless Credibility!)

Access to a Monthly Live FB Q&As
$997
or 6 monthly payments

More Love From Lovely Changemakers…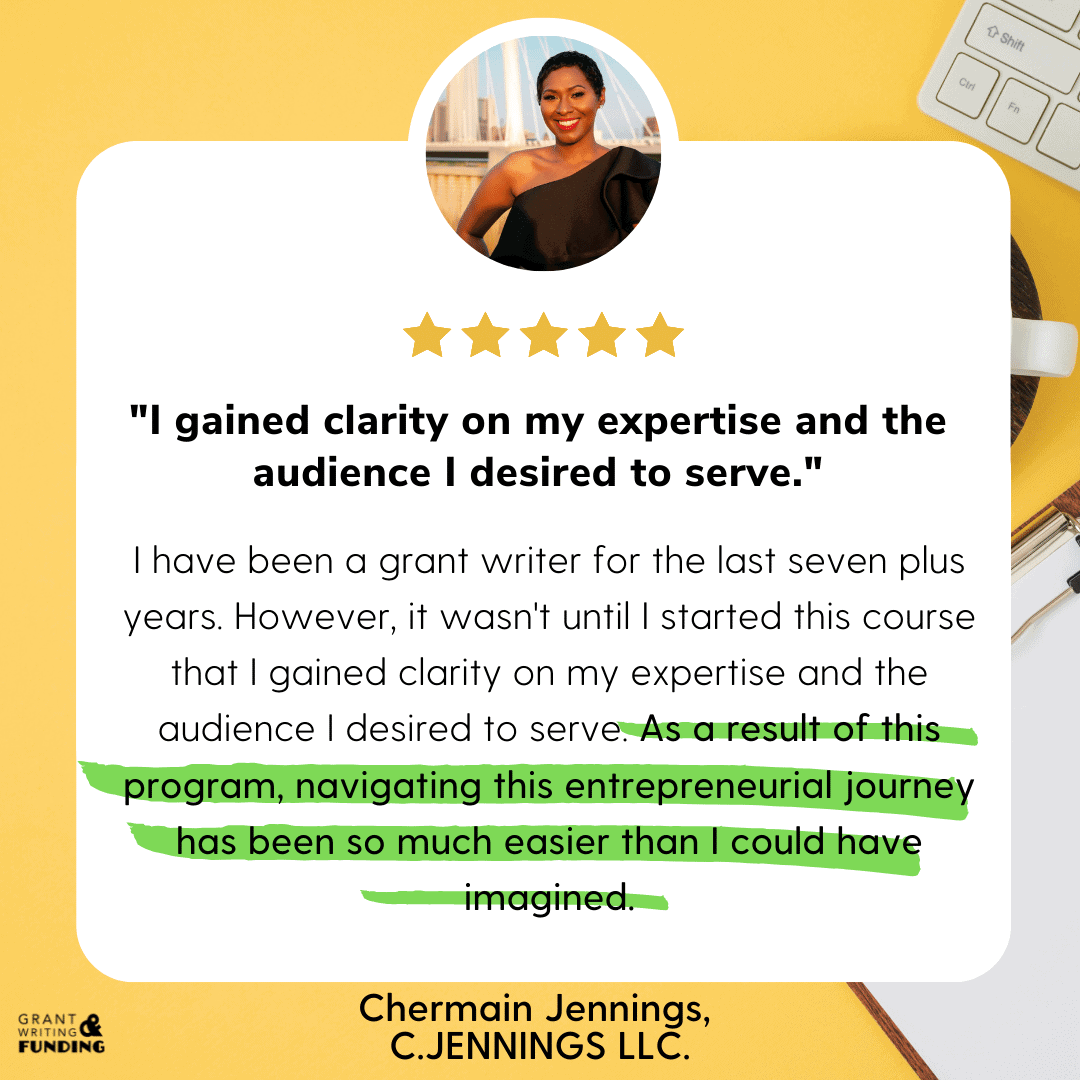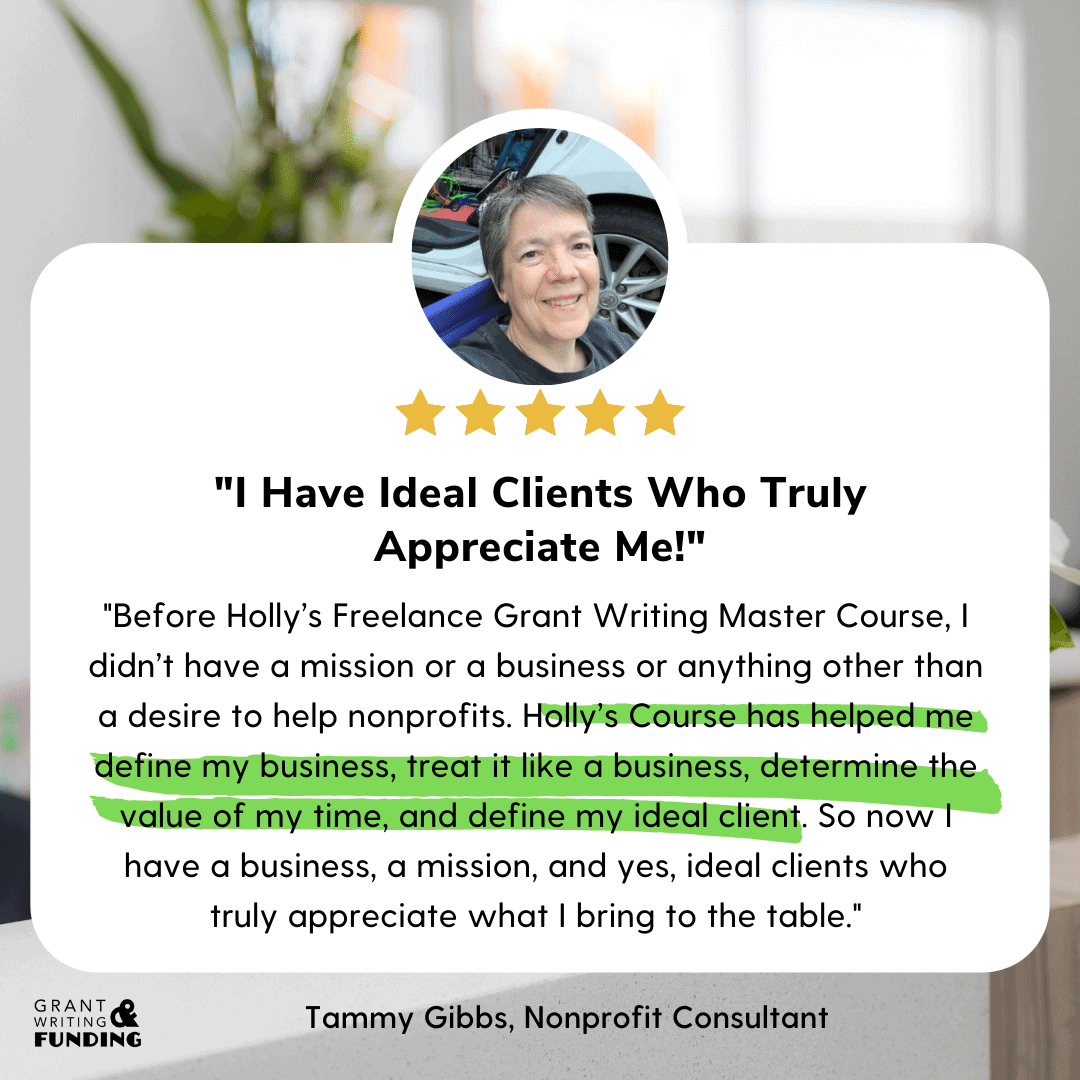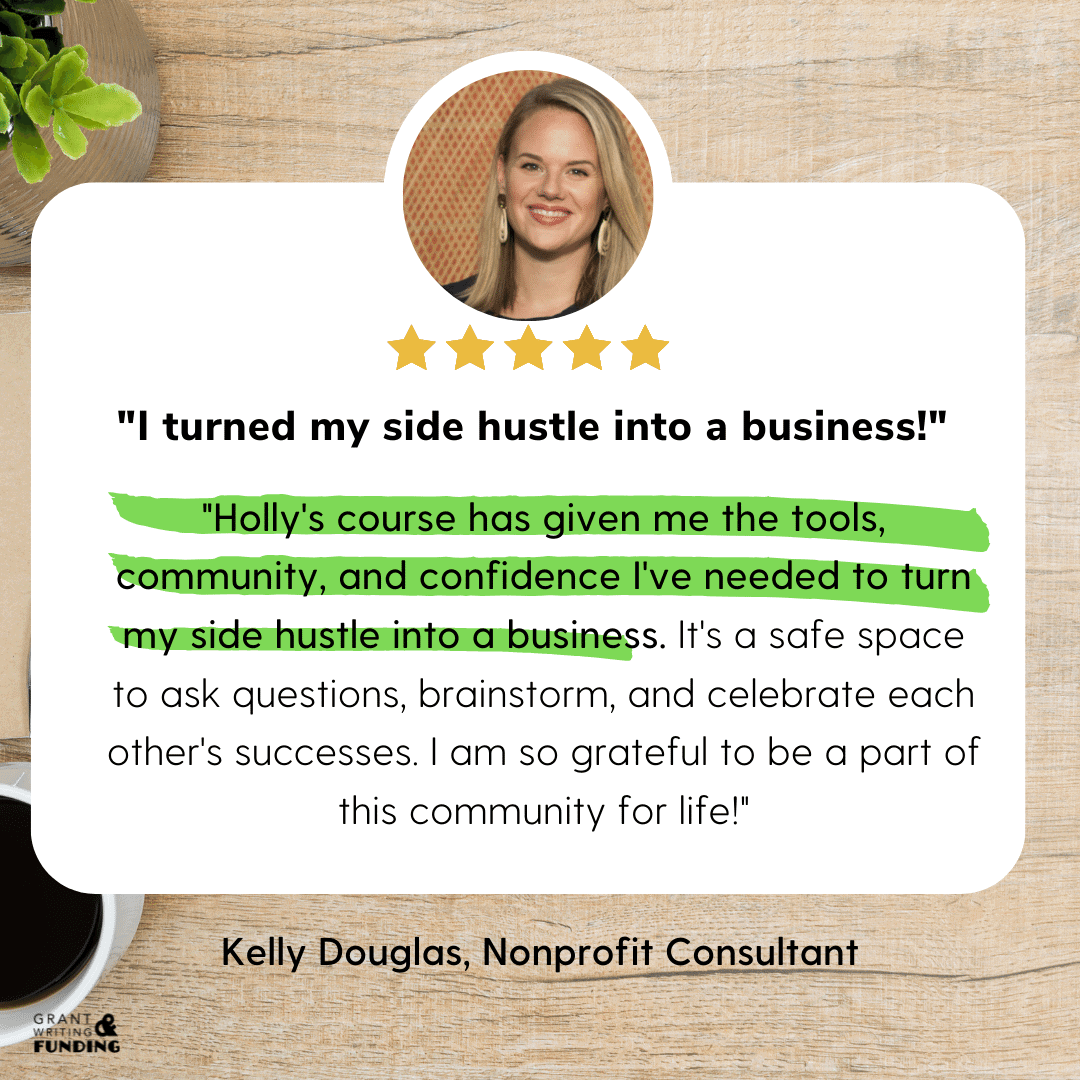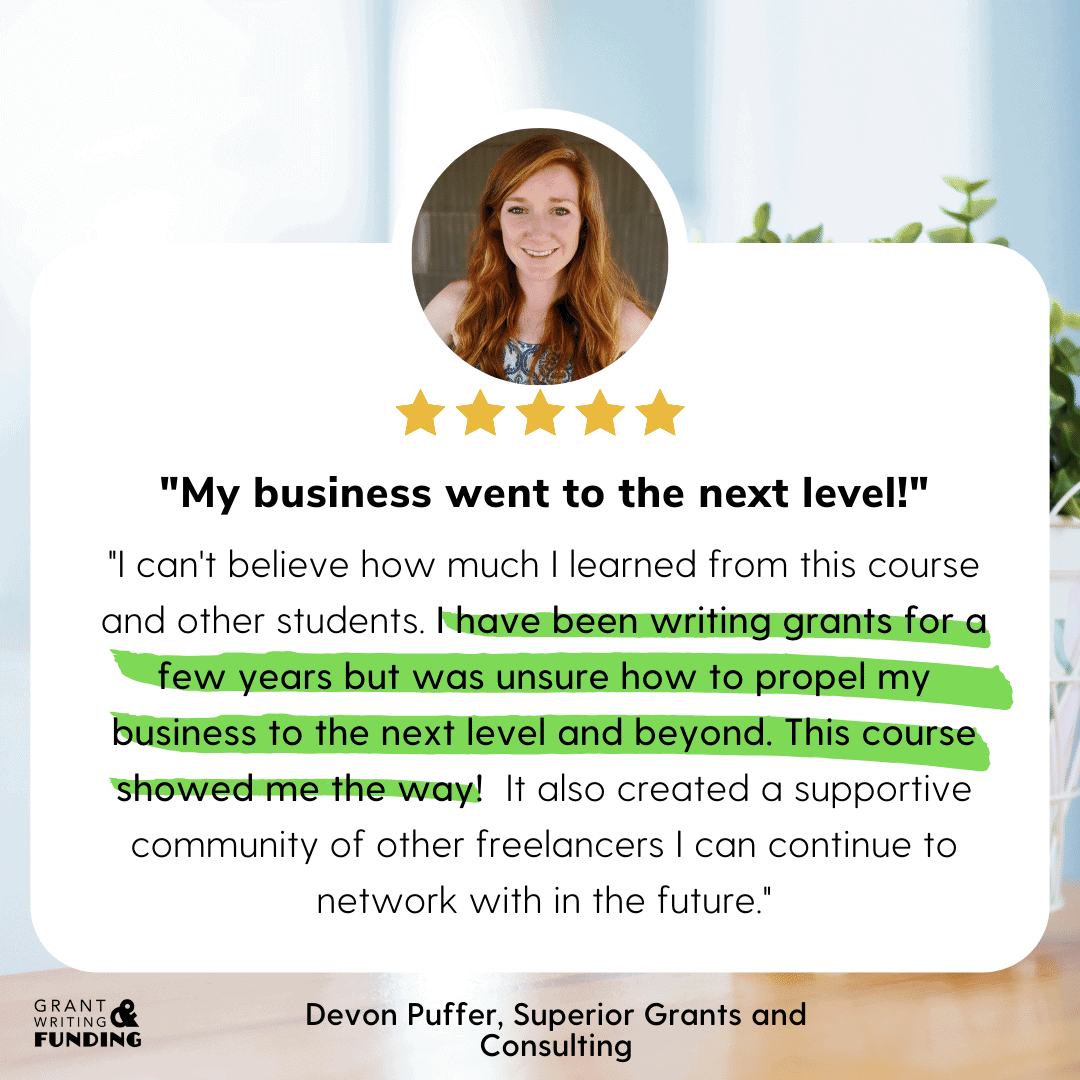 I am walking you through everything you need to know to learn how to grow a successful grant writing business.
You will immediately get a step-by-step process through a core principle that will help you learn how to launch and grow a business and start taking action to get clients and charging what you're worth.
At the end of the course, you will have everything you need to grow a successful, profitable freelance grant writing business and to make a lasting impact in the world.
This is offered to help build up the capacity of grant writers out there to help nonprofits and businesses get funding.
You're at the point of decision.
You can either continue down the path where you have a passion and desire to make a difference in the world and leave a legacy with your work, but you don't take the next step.
Instead, you backtrack down a path that is familiar and comfortable and where you'll wind up in the same place you've always been; wishing you could make a real impact. But if you want something different to happen, if you want to change the direction of your finances and of the impact you can make in the world you're going to have to do something different. Make a decision to be your 'different' and to be that change agent.
I look forward to working with you!