You've started to get prepared in the past, but you always get caught up in 24/7 virtual fires.
Nonprofit Leaders: This is for you if:
You are burned out of the same old fundraisers

You always miss the deadline for that 'perfect' grant

You are overwhelmed with putting out virtual fires every day instead of focusing on GROWTH for your nonprofit
Freelance Grant Writer & Nonprofit Consultants: This is for you if:
You are a consultant and want an easy to learn and easy to customize service to help those nonprofits get more funding

You want multiple streams of income

You want to learn clear action steps in a simple way that will make you the expert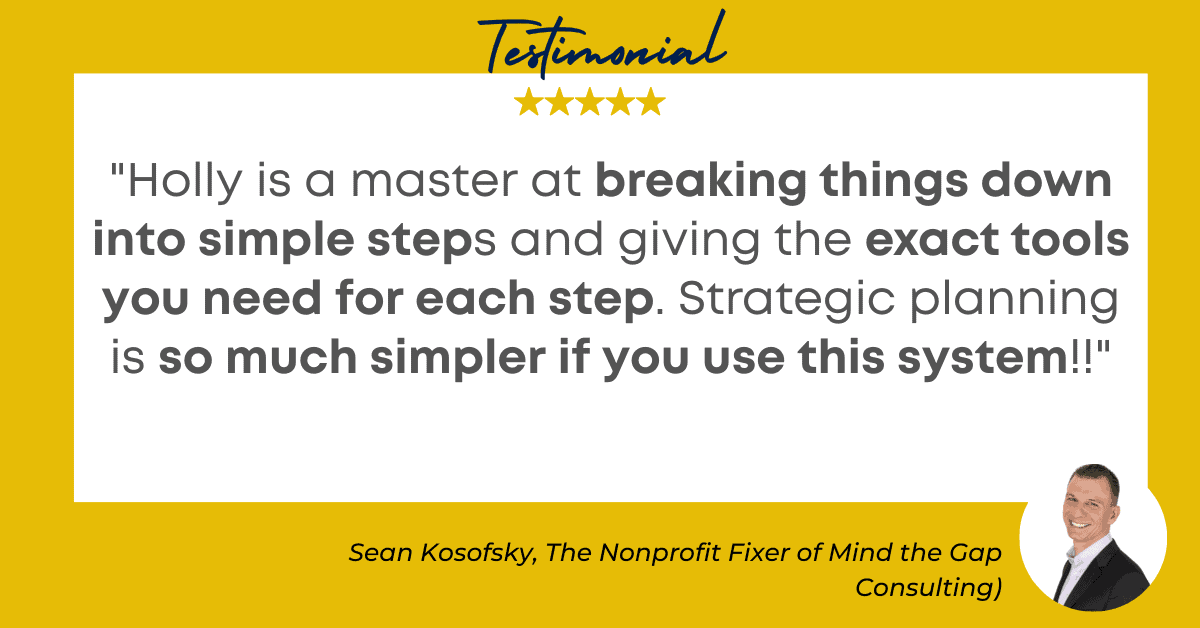 You May be Struggling with Two Things:
How to advance a nonprofit without it taking TONS of time

Not knowing exactly 'what' to do that will bring the greatest benefits for a nonprofit
And Let's Face it, Life Gets Crazy
If you don't figure this out, your nonprofit (or the nonprofits you serve) will remain in a frustrating cycle of exhaustion.

You will operate on a shoestring budget and remain in lack, never knowing if you can keep on your staff.

You will definitely not be able to give consistent pay increases year to year or even (gasp) offer health benefits consistently.

Because of this, your well-trained staff may leave your nonprofit at any moment and with them all the institutional knowledge and systems.
As a freelance consultant, if you don't learn strategic planning then it is going to be frustrating when you need to help your clients build internal capacity to increase their grant funding.

Plus, you are going to get asked to help with strategic planning.

Without knowing (and having the downloadables!) to lead nonprofit's forward in strategic planning, you are hanging on one stream of income with grant writing.
But the problem is that you don't really know where to start with strategic planning.
You don't have an agenda with downloadables to lead you through a comprehensive, yet streamlined, system.

You don't have hundreds of hours to learn.

You need short tutorials with downloadables that you can accomplish in a day-long retreat or throughout board meetings.
How does one EVEN start with strategic planning?

What is the secret to getting out of 24/7 virtual fires without overwhelm?

What is all included in strategic planning?

You know your nonprofit (or the nonprofits you work with) can make a steady income (others are doing it, right?) but you have a few hurdles…
You know your nonprofit (or the nonprofits you work with) can make a steady income (others are doing it, right?) but you have a few hurdles…
First, you don't even know where to start with strategic planning.
Second, even if you download some YouTube videos you are sure what is proven to work.
Third, if you don't do something you know that nonprofit will just keep spiraling in overwhelm and month to month operating with at any moment threatening to have no income.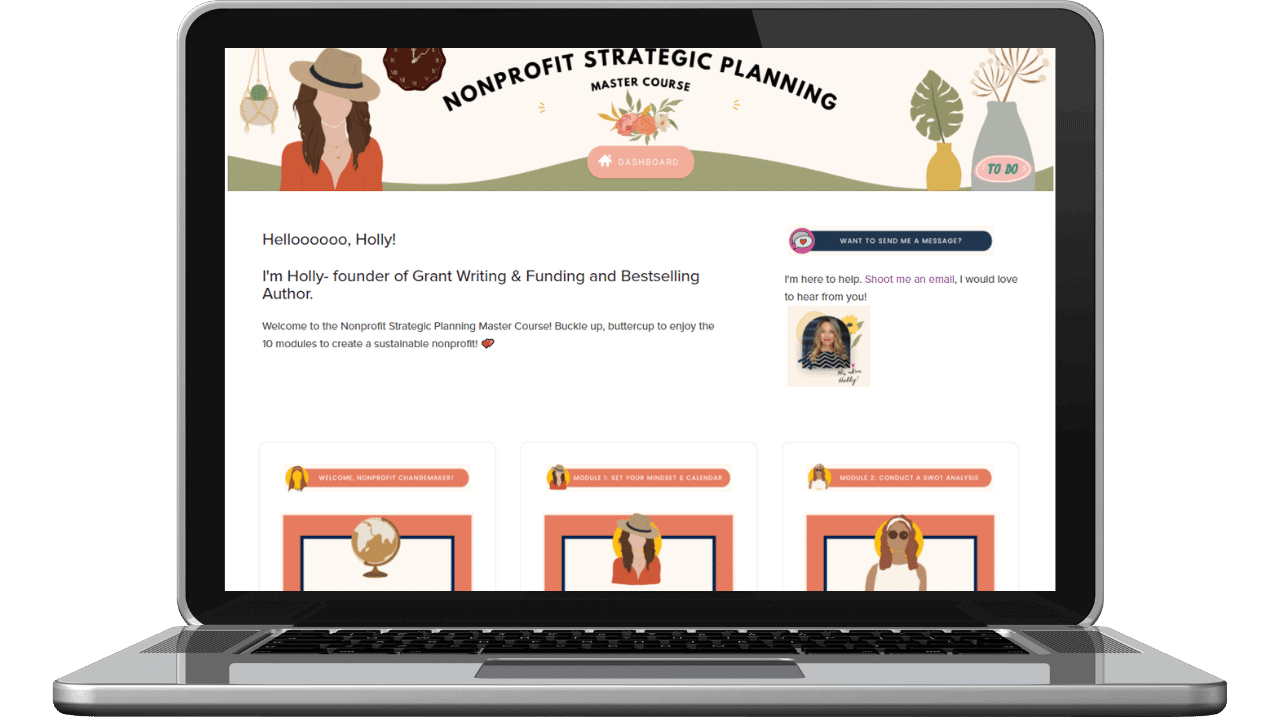 What Makes the Nonprofit Strategic Planning Master Course Different?
#1: It is designed for both
nonprofit leaders

and

freelance consultants

How I help nonprofits grow their financial and mission health for their nonprofits can also be how you do it! As a nonprofit leader, you will learn how to facilitate the content from the videos with your team by also have downloadables and excel sheets that everyone can use! This creates natural buy-in from your team.

As a freelance consultant, you can shadow me as I teach nonprofits. You also get the downloadables that you can adapt as your own!

This course will show you how to improve your own nonprofit's sustainable funding and planning, as well as show you how to help others (and get paid for it!)!
#2: It's simple
If you have hundreds of hours of content and a 300-page manual, you're not going to get into it.
If you have a myriad of content you are trying to learn from (i.e. random YouTube videos, downloadables from various sources) you are going to feel disjointed and things (links) are going to get lost.
We need simple tools and methods that do just enough to: a) free up some of our time and b) make sure we get the strategies done!
The Nonprofit Strategic Planning Master Course is a simple system designed to help you actually conduct and implement your strategic planning.
#3: It is a step-by-step plan
I give you everything you need to ensure you increase your ability to get additional streams of income for your nonprofit or your freelance consultancy.
This is not a generic "just ask for more funding" kind of course. I've created a systematic plan that will help you stop living in overwhelm, get your planning done in a strategic way, and the efficient and sustainable funding for your nonprofit.
The Nonprofit Strategic Planning Master Course will provide the exact system you can use to get your strategic planning done as soon as possible so you can implement it and increase sustainability for your nonprofit or your consultancy.
Overall, the Nonprofit Strategic Planning Master Course will Help YOU…
Take out the Guess Work out of Planning

Make Your Nonprofit Strategic Planning Seamless, Effective, & Efficient

Save your Team Hours & Hours

Increase Your Funding Exponentially for 2023

Mitigate 'Managing' Stress

Decrease Staff Overwhelm & Conflict
Why Is all This Vital?
Because you will become…
a more efficient (and more liked!) executive director
a less stressed nonprofit leader
a more hopeful nonprofit leader! (a funding strategy always helps!)
Inside The Nonprofit Strategic Planning Course has 47 video lessons, & 25 templates with huge benefits
— and huge results:
Lifetime access to any updates of the course!

Access to the Changemakers Private Facebook Page

Certificate of Completion

You can have a nonprofit strategic plan in place this year, heck even TODAY, with this Nonprofit Strategic Master Course.
See What Others Are Saying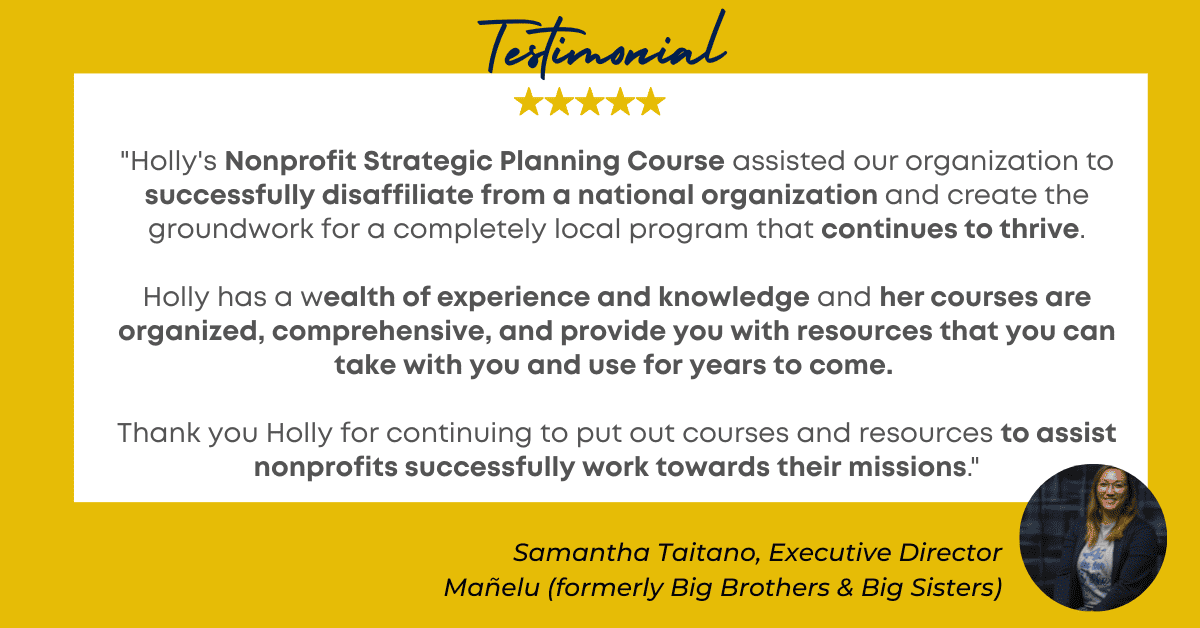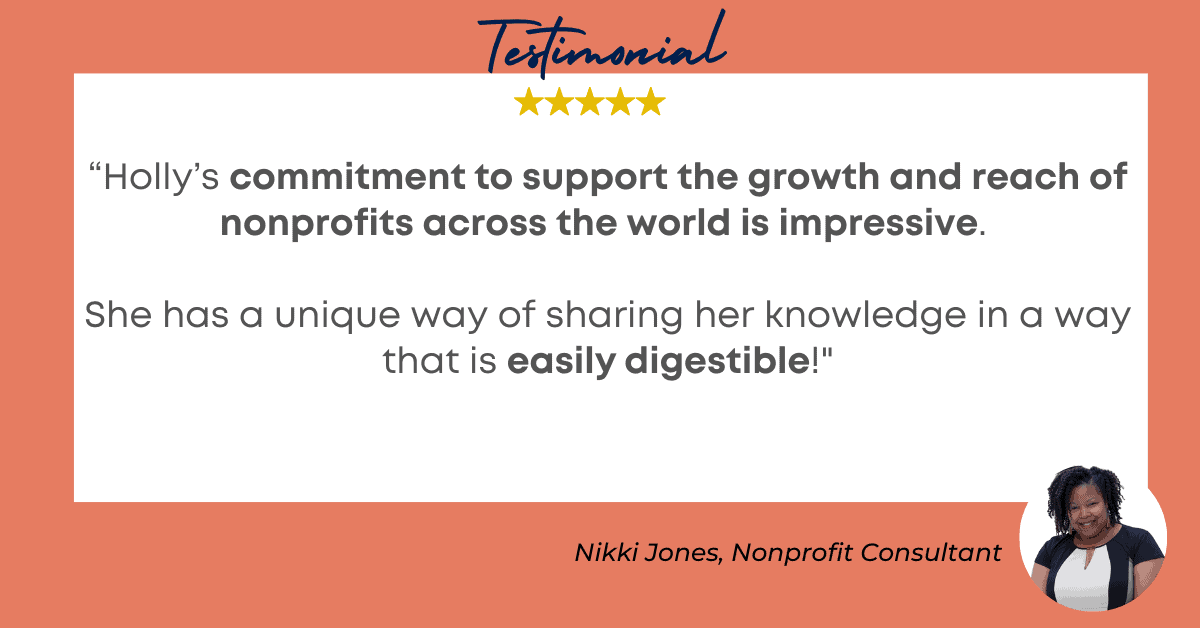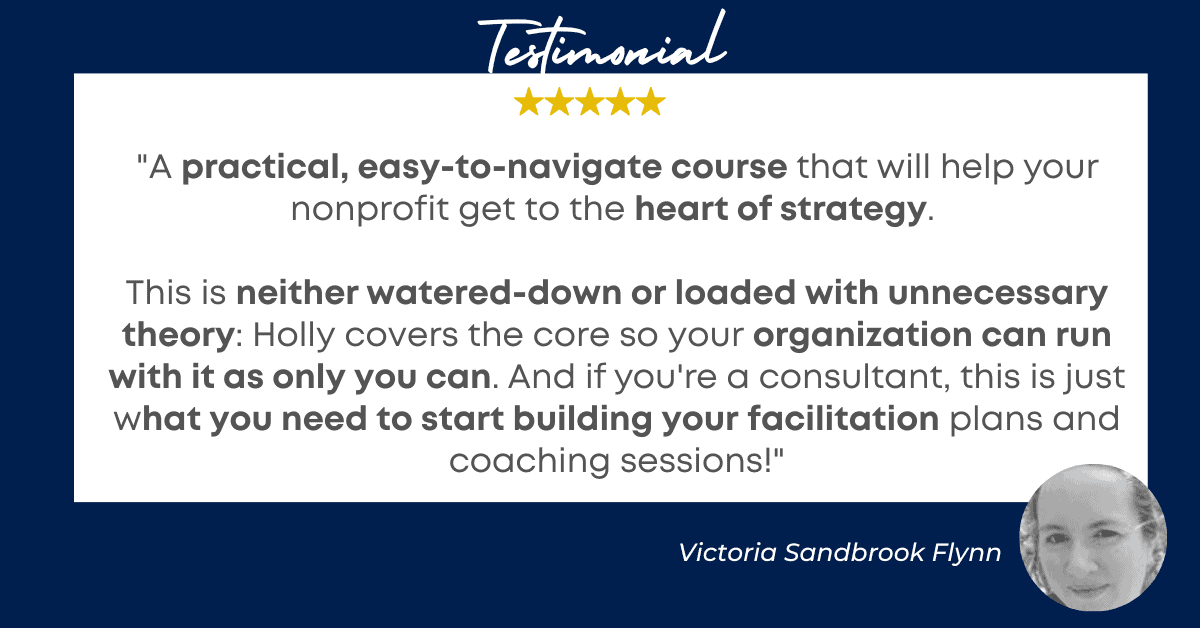 Who Else Has this Helped?
However, grants only funded certain projects, and operational costs (including the executive director pay!) were non-existent. Therefore, they hired me to come and implement this strategic planning over a course of two, half-day meetings and several board of director meetings.
Literally, this was done in about 12 hours.
The changes were dynamic and immediate.
Firstly, they immediately got to know each other's intentions with the nonprofit which was enlightening.
Secondly, they nailed down their SWOT analysis and realized their mission and vision statement were WAY off course. They redesigned a mission statement and vision statement with buy-in from the entire board and volunteers.
Thirdly, they reflected on their resources and target demographic. This was instrumental to then implement goals, objectives, and activities for their annual planning.
This resulted in identifying their resource mapping and within a month securing another grant for a project that actually made sense to their mission (and funded their executive director) and launching a gala which was able to fund additional operational expenses while dramatically increasing their presence in the community.
Within 12 hours (in total), this nonprofit conducted the planning necessary that increased their annual income five-fold within months. That is just the initial response. The indirect effect of building credibility and increasing partners in the community has long-term effects of exponentially increasing income in a sustainable way.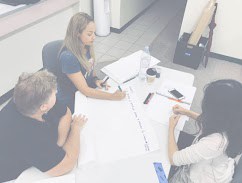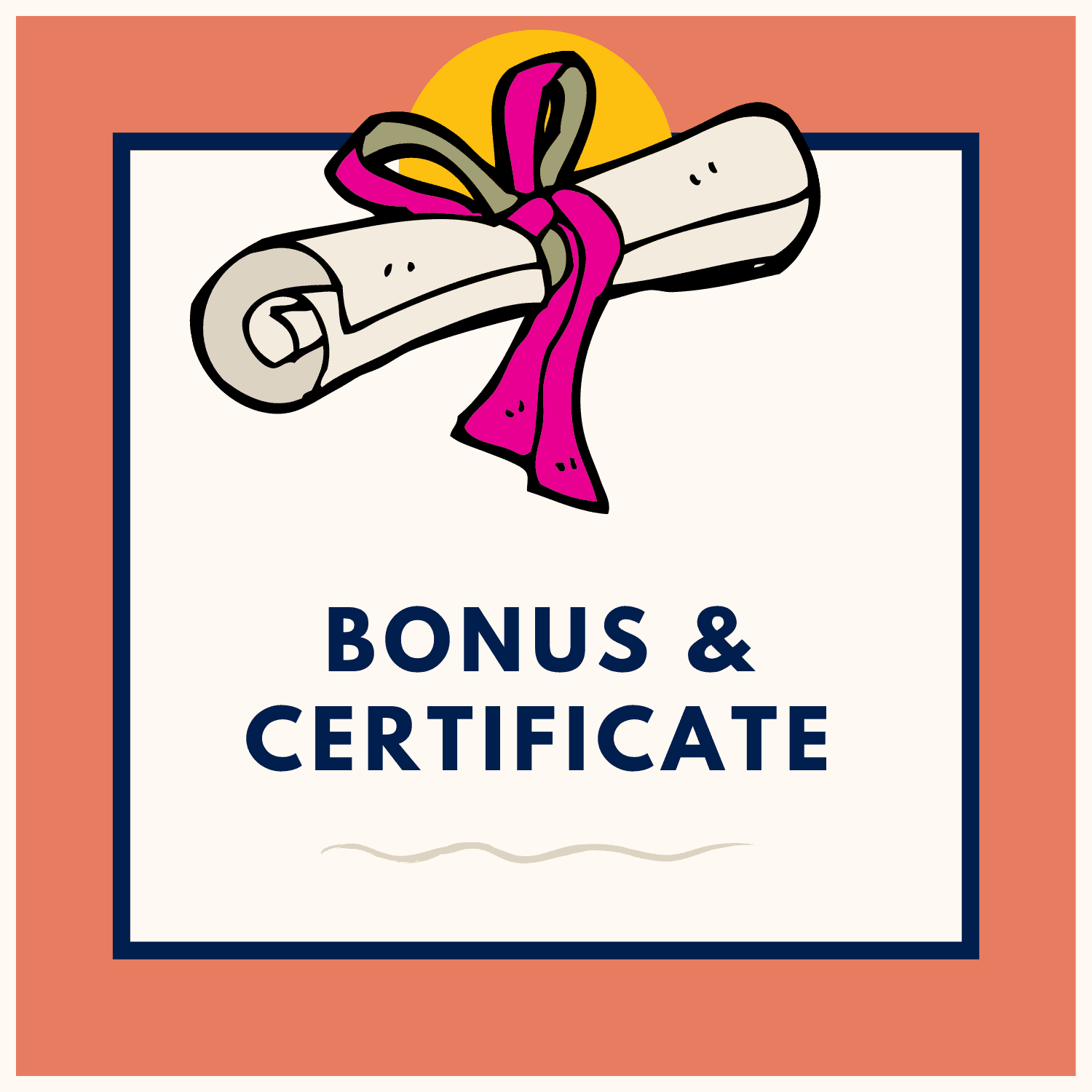 This is not the only example.
Individuals who have taken this course online have also had dramatic effects.
Samantha was a new executive director to a nonprofit who was completely restructuring their branding. She watched the videos and then led weekly meetings with her staff to do the downloadables.
This resulted in a smooth transition to her new branding, increased efficiency in scheduling fundraising and grant deadlines, and buy-in from the community.
She also increased her reputation and capacity as an executive director, gaining respect from her board of directors and from her staff.
Inside the Nonprofit Strategic Planning Master Course
Inside the Nonprofit Strategic Planning Master Course, you'll find video lessons, downloadable worksheets, and checklists, and get access to a Private Facebook group!
The Nonprofit Strategic Planning Master Course is a ten-module course that will walk you through your entire productivity plan.
How will your Nonprofit Grow?
What you want is to increase the effectiveness (and income) of your nonprofit in a sustainable way without it taking hundreds of hours of your (and your staff's) precious time.

You want to have a streamlined system to guide you so you can be an effective facilitator.

You want your staff to be happy and to actually earn a living so they stick around and are fulfilled.

You never want to miss a grant deadline again.

If you are a freelancer, you want to be the golden expert that helps nonprofits reach all the above.

You also want an additional stream of income that also helps nonprofits reach their goals.

You want to relieve the stress of only relying on grant writing.
What about
freelance consultants

?

Providing strategic planning for nonprofits has also helped me as a consultant to increase my ability to help nonprofits and my income!

I have been able to conduct both in-person and online training for SO many nonprofits.

This has increased my reputation as a consultant in the community, has helped me guide nonprofits into raising hundreds of thousands of dollars for operational funding, and has given me an additional stream of income when the grant season isn't as heavy.
Every successful nonprofit organization and freelance grant writer has a system in place.
They have learned to set time aside (and how to set time aside).
They know all their strengths, weaknesses, opportunities, and threats. They know how to facilitate effectively. They have resource mapping organized through excel sheets.
They know when and how to increase funding.
They may share some tips with you, but they don't share the entire system with checklists, downloadables, and step-by-step video tutorials.
I am going to share those with you!
The Nonprofit Strategic Planning Master Course is a proven system that will help you find the time, overcome the overwhelm, and give you the tools to set up a nonprofit with sustainable funding this year.
The Nonprofit Strategic Planning Master Course includes the knowledge and expertise gathered from years of working with and training nonprofits.
When you join the Nonprofit Strategic Planning Master Course you'll access a 10-module program that will ensure that you advance your mission and increase your ability to reach diverse funding sustainability.
For freelance consultants, you will also be ensured to gain an additional stream of income, expertise in nonprofit planning, and increase your reputation and credibility in your community.
You'll learn the exact mindsets, system, scheduling, and methods that I use to get nonprofits to enhance their entire organization and increase sustainable funding, as well as help nonprofit consultants, increase their income 10-fold and grow their reputation.
Are you going to ensure that your Nonprofit is successful and prepared for the year?
That your nonprofit or freelance consultancy can increase with additional (sustainable!) streams of income?
Now is the time to make the decision about what's next for you.
You can keep on doing what you've been doing, and keep getting the same results. You can keep pushing back the success of your nonprofit.
Or you can learn from my experience of working with nonprofits and freelance consultancies and being obsessed with productivity — and save yourself years of frustration and spinning your wheels.
To reach your goals of sustainable funding for your nonprofit, you have to make a change.
I've spent thousands of dollars and years of work to get the level of productivity training I'm offering you with this program.
This is what you've been looking for: proven methods used by nonprofit leaders and freelance consultants that will have you getting your planning done so that your nonprofit grows capacity, increases funding and advances mission.
Let's get energized and focused. Because if you don't do it now, the chances of doing it "someday in the future" are slim to none.
This Nonprofit Strategic Planning Course has helped me increase the growth of MANY nonprofits and now YOU can have it to help your nonprofit or (if you are a consultant) the nonprofits you serve!
You get online videos, downloadable templates and worksheets, and access to a private FB group. Oh, yeah.