Want to Join the Nonprofit Start-Up Academy and get:
2 Experts + 4 Training Sessions + 4 Q&As + 70Plus Templates and Resources?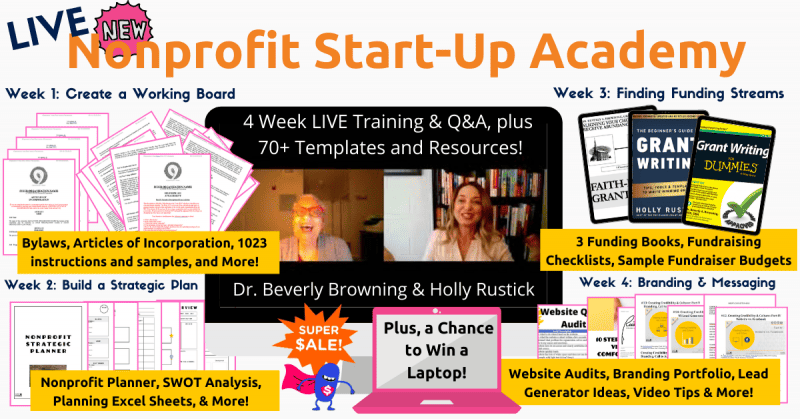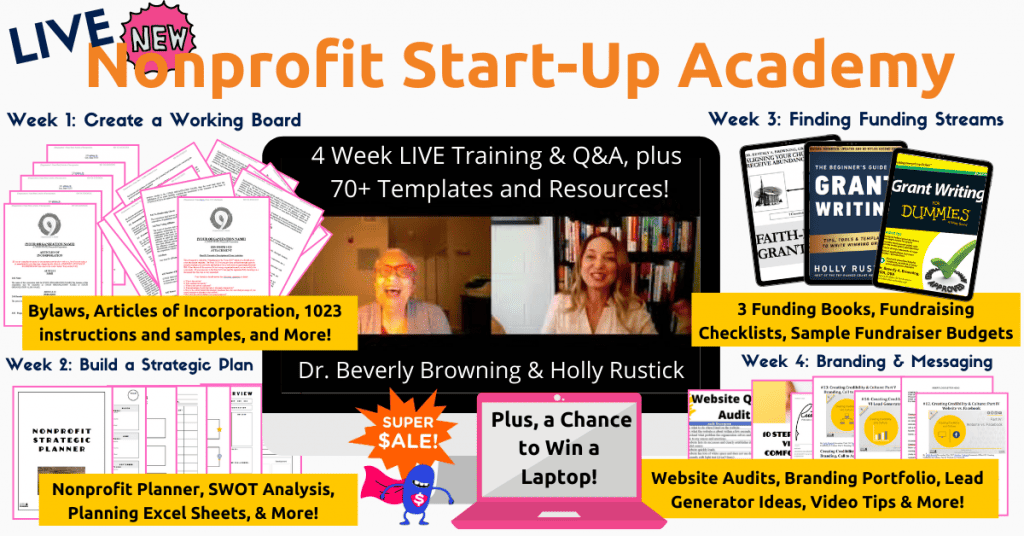 Branding is Important to Demonstrate Nonprofit Credibility.
Here's the Why, What, & How
OMG. Branding is important and here to stay.
Yes, even for nonprofit organizations.
But Holly, I don't have a budget for my programs how do I fund a swanky website or social media posts? Don't you know we are living off peanuts here?
Okay, the second question there is worth another podcast all on its own. For reals. We gotta pull up a seat for that one. The first question, though, here is your answer.
You don't need a big budget for branding.
Sometimes it's as simple as having business cards for your staff. But let's be real, it's almost 2021 (or maybe your reading this in 2021 and beyond), and you need a website. Not just a Facebook page. Not just an Instagram account. You need a website and there are a lot of very affordable and user-friendly options out there.
It can be overwhelming, though. So that's why Dr. Beverly Browning and I put together this podcast so that you would get a crash course on some great tips and resources to get your nonprofit (or if you are a freelancer: the nonprofits you work with) up to speed on some beautiful branding. Because the fact of the matter is that funding sources do check out your website. I'm not just talking grant funders. I am talking about individual donors.
So if a millennial comes across your website and it looks like it was made in 2005, they may not give. It's not that they don't support your program. It's just that it will be hard for them to connect what you are doing if there is a page of text vs. an infographic. Plus, if they don't see a donate button or it looks super tacky they are going to be confused, or worse yet think it's spammy.
But before you pull your hair out realizing your nonprofit needs yet another thing, think about this… Your nonprofit is a business. It is a not-for-profit business, but it is a business. There are certain elements that you need to concentrate on for your nonprofit that aren't just in the weeds. Branding is one of those elements.
Your website is your organization's headquarters. Social media is the outreach that directs people to your headquarters (website). So just like you wouldn't have your headquarters a complete mess or your outreach incomplete, you shouldn't do that for your website or social media.
But it doesn't have to be overwhelming or expensive. Listen to the episode to find out all the why, what, and how on creating simple branding elements for your nonprofit.
Related Podcasts:
My Co-Host for the Month of December is Dr. Beverly Browning!

Beverly's Bio:
Dr. Beverly A. Browning has been consulting in the areas of grant writing, RFP responses, technical writing, and organizational development for over four decades.  She has assisted clients and workshop participants throughout the United States in receiving awards of more than $500 million.  Dr. Browning is the author of 43 grant-related publications, including six editions (over 1 million books sold) of Grant Writing For Dummies™ (Wiley.com). She is also an international trainer and keynote speaker.  In 2015, she was selected by the Centers for Disease Control NICRD division to conduct a five-day Grant Writing Boot Camp in South Africa for ministers of health and other top-level health directors from 23 African countries.
Dr. Browning holds graduate and post-graduate degrees in Organizational Development, Public Administration, and Business Administration.  She has been a grant writing course developer and online facilitator for Cengage Learning (www.ed2go.com) for 17 years.  Her online courses (taught to thousands of students annually) are Advanced Proposal Writing, Becoming a Grant Writing Consultant, and A to Z Grant Writing: Part 2 – Beyond the Basics.
Dr. Browning is Founder and Director of the Grant Writing Training Foundation and CEO for Bev Browning, LLC.  She was a 17-year member of the Grant Professionals Association (GPA) and has presented training workshops and keynote presentations for multiple GPA chapters U.S.-wide.  In 2017, Dr. Browning joined the Association of Fundraising Professionals (AFP) and was a workshop presenter at their 2018 International conference in New Orleans. She is an approved trainer for GPA and CFRE International.
Dr. Browning has been married 53 years to John and has one daughter, Lara, a licensed therapist, and a special needs granddaughter, Aaliyah.
Connect with Beverly:
To find out more about Dr. Bev, check out http://bevbrowning.com/
Or find her on LinkedIn where she facilitates a group at https://www.linkedin.com/in/bevbrowning/
Watch the Full Episode of This Week's Podcast!
Want to Join the Nonprofit Start-Up Academy and get:
2 Experts + 4 Training Sessions + 4 Q&As + 70Plus Templates and Resources?