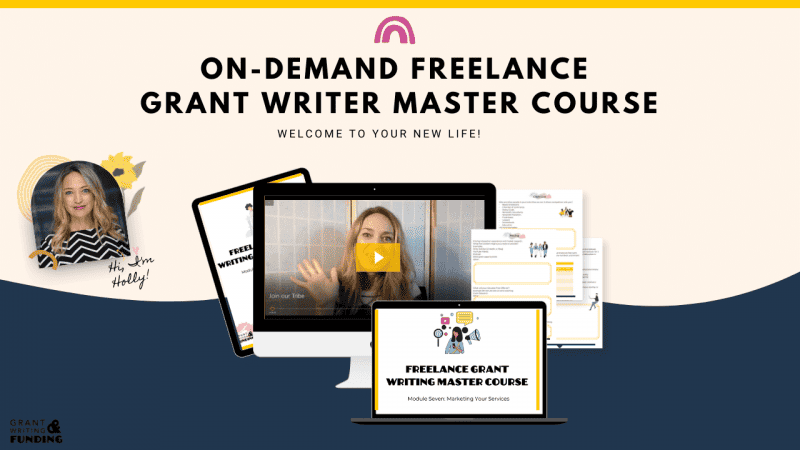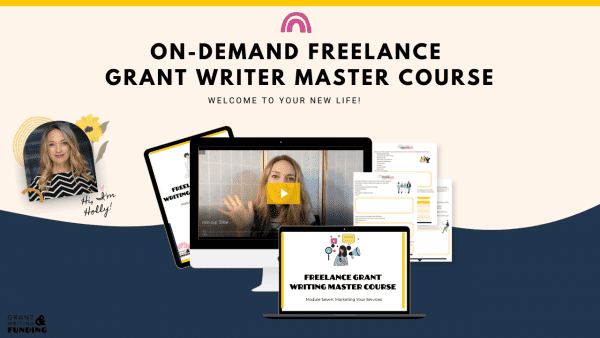 What's Inside the Freelance Grant Writer Master Course?
The reason why I teach about clarity and identifying nonprofit clients in the Masterclass is that I believe that this is where a lot of aspiring freelance grant writers get stuck.
I have worked with aspiring freelance grant writers for a long time. I know what can stop you and cause paralysis, and I know how to help you get unstuck. So what usually holds back my students from moving forward is uncertainty, overwhelm, and not having a formula.


In module one, we develop a sound system of really understanding who you are and what you want. We deep dive into your values and go deep into your limiting beliefs and transition these into abundant beliefs. Additionally, we go through how to set up a business, business account, and more.
What I love about module one is that it focuses on the heart-driven beliefs and the tangibles about your business. This is huge for creating lasting success.
By the end of module one, you will have learned:
The differences between starting a Sole Proprietorship or LLC
Created a customized success pathway
Aligned your beautiful values to create a sustainable foundation for your business
Got your bank account set up and all your ducks in a row


Module two is all about understanding and clarifying what nonprofit clients you want to work with and what services you really want to do. It really is all in the niches, but it doesn't just have to be what your clients want. It really has to come from within of what lights you up.
You'll figure out how to identify your nonprofit client, service niche, and type of nonprofit client. We will do a deep dive into figuring out the why behind this and then you will start creating your ideal client contact list. This is guaranteed to get you more discovery calls than a one-size-fits-all approach.
By the end of module two, you will have:
Identified Your Nonprofit Niche
Articulated if you are a Generalist or Specialist
Mapped out your customer (guest) avatar
Know how to keep aware of funding priority shifts
Created a nonprofit lead list


Module three is where I walk you through how to conduct a SWOT assessment for your business, develop a mission and vision statement, cultivate a name for your business, and MORE! No more getting stuck in paralysis as you will get feedback and accountability from your cohort.
By the end of module three, you will have:
Created a mission and vision statement based on your values
Conducted a SWOT analysis to leverage your strengths and mitigate threats
Understand simple ways to create branding that resonates with your soul!
Understand the dos and don'ts of what to include on your website without overwhelm (even for non-techies!)
Create branding colors, have a logo draft, and understand the mood you want to convey. Remember, your business is you, so how do you keep YOU in the business?
This module does include some tech, but it's very user-friendly tech. I share with you free tools that I have been using for years and give you short tutorials on how to use these resources. It's so easy that my 10-year-old daughter has also been my virtual assistant on some tech for years!


Next up, module four! You will develop a schedule that will work for you not against you. Working as a freelancer can feel overwhelming, but I will give you the schedule that is a formula and systems to streamline your operations so you don't operate in a silo. This is the exact system I use!
By the end of module four, you will:
Create an ideal work week schedule that is adapted to your lifestyle
Learn productivity hacks to align your time
Implement operational systems so you don't burn out
Learn how to be a freelancer that doesn't need to employ a team (but if you want to, I will give you tips on that)
Get a client time tracker so you know how much time you send on all the things (note: most freelancers do not do this and then end up undercharging or continue to work on things in their business for 80% of the time that only bring in 20% of the revenue! I will show you how to flip that script with this tool)


In module five, it's time to finally talk about the money. Cha-ching. It's time to learn value-based pricing! You want to charge for your services, but let's face it, you aren't sure how much or even what types of proposals to send nonprofit clients. Should you charge hourly, by the project, on retainer?! I will give you templates and have conversations around pricing and packaging.
By the end of module five, you will:
Become an expert at pricing your worth. This is HUGE! This is one of the biggest hang-ups that freelancers (especially us women) have. It's time to get over trauma and step into our worth.
Learn the art of proposals. This can actually be FUN! But you don't want to forget important items to include! (expiration date anyone?)
Get Sample Retainers and Pricing Strategies so you don't have to develop from scratch!
Get a Post Discovery Call Template that you can send to that Nonprofit Client. Getting the interviews and discovery calls is great, but if you don't follow up promptly then you might not secure the client.
Get a checklist and script of questions to ask in a Discovery Call. (Are they asking you about your ROI or grant writing success? I've got your response!)
Have more tips on developing a client list


In module six, you will start to develop how to capture those leads. You need a catchphrase for your business! Plus, when folks land on your website, LinkedIn profile, and more – you need to ensure that your sales copy gets them booking you to write their grants! In this module, you will create taglines and more!
By the end of module six, you will:
Get my converting sales copy for your website!
You will develop a tagline and slogan for your business so you can spit out the right thing at those networking events!
Communicate your value through branding (yes, we talk about it again but in a different way)
Get a tool for the best blog and article titles!
Design ideas on what content to share on your website and social that will make nonprofits drool!


Next up, module seven where you will learn magic marketing! Are you wondering if you should use LinkedIn, Instagram, or Facebook? Are you wondering where to find nonprofit clients? We will go over the ins and outs of social media marketing and traditional marketing so you can feel more confident in getting clients.
By the end of module seven, you will:
Identify your marketing platforms (no, you don't need to be on Facebook or even social media for that matter!)
Understand how to market on social media that won't leave you exhausted!
Get my hacks on how to use Canva (non-tech friendly) to create beautiful graphics, reports, proposals, and more…all for free
Get a simple low-hanging marketing template on how to immediately get clients and eyes on your services


Finally, in module eight, I will give you some extra bonus tools in your toolbox. Let's face it, not every nonprofit is ready for grants. However, you can become a peer grant reviewer, conduct a nonprofit wellness audit, facilitate board training, and more.
By the end of module eight, you will
Get a list of tactics on how to diversify your services that include services other than grant writing
Learn how to make your grant writing a multi-tiered service!
Learn how to become a federal peer reviewer (and get paid to do it!) This will help you 10x your grant writing skills, increase credibility as you also review grants, and help you understand the grant review process.
That was a lot to cover, but that's not all! On top of those modules, I also include some extra bonuses and you get videos, downloadables, and templates to follow along with all of the modules.
For the 8-Week Freelance Grant Writer Course (as mentioned before), you also get:
8 weekly live Zoom sessions,
an 8-week private FB group, and
access to me throughout the course to get personalized feedback on all your activities!
You will get access to the Zoom replays, as well. (hey, life happens!).
Plus, bonuses
How the Freelance Grant Writer Couse has Helped Changemakers
So you might be thinking,
"That is all fantastic, Holly! But what kind of results do students get after attending the Freelance Grant Writer Master Course?"
I'll just share with you what some of my students have experienced:
Omotola was teaching at a university and running a nonprofit. But she knew that she wanted to start a side business of grant writing to eventually turn into a full-time job. With having little kids at home and by wanting to help more start-up nonprofits, she knew that this was key to helping her live her dream.
She said, "At first, I was reluctant to sign up because of the time and money investment but I am so glad I took the leap and sign up. It is worth every single dime and you reap the benefits almost instantly if you do the work. Holly is the best and she is an excellent teacher and coach. Just a 45 minutes coaching call with her at the start of the freelance masterclass turned things around for my nonprofit. Holly came up with a strategy that helped us raise $5,000 within 4 weeks.

For my business, Holly helped me finetune my ideas and made it seamless to execute all the action steps I needed to set up my freelance company the right way. Taking Holly's Freelance Grant Writing Couse was the best investment I ever made in myself and in my business. Since I took the Course, I have been able to make more than $50,000 and only worked a total of 8 months. If you are still on the fence, don't be. Everything Holly produces is gold and she is sold out to you. You should definitely invest in yourself to reach exponential growth and results. Take the leap and go do it now."
Tammy Gibbs, never was able to charge for her grant writing services before the course. She knew that she wanted to start a business, but was pulled into doing pro-bono work left and right.
She even asked, "Is it possible to get nonprofit clients that pay?"
Coming from a rural town in the south, she just wasn't sure if it was possible. However, after she took the course she realized this was possible.
"Holly's Freelance Grant Writing Master Course has helped me define my business, treat it like a business, determine the value of my time, and define my ideal client. So now, thanks to Holly, I have a business, a mission, a vision of how I can help more nonprofits, and yes, ideal clients who truly appreciate what I bring to the table. Thanks, Holly, you are my hero."
I just love those stories, and trust me, I have plenty more.
But the beautiful thing about the Freelance Grant Writer Master Course is that it's full of amazing people who are at different stages of their life, geographic location, and expertise. They LOVE networking and helping one another. Some of my former students still work together on different projects or refer work to one another!
Why I Created the Freelance Grant Writer Master Course
Let's go ahead and get real. I want to share a little bit about why I created the Freelance Grant Writer Master Course. I created it because I know it's possible for you to create a prosperous and successful life while helping nonprofits reach their mission. I believe that you can do a job that you love and create a sustainable income.
I know for a fact that there are waaaaay more nonprofit organizations out there than there are grant writers and you will always be in demand for work. I also know firsthand the level of fulfillment and satisfaction that you can have helping nonprofits reach their mission while you always have the contentment of living life on your terms.
I very much believe that the world has transitioned more into a freelancer approach, and it will continue to.
So for those of you who are in transition:
maybe you are just getting out of college and looking for something that meets your needs so you can still travel;
or maybe you just aren't happy being an employee at a nonprofit anymore and want to break that glass ceiling while still serving nonprofits;
or maybe you need to work from home because you have little ones – and let's face it, virtual learning might be what you decided is best for them-;
or maybe you are ready to retire but still would like to earn some side income while doing something that feels amazing.
I've created this course, because it is what I actually used when I transitioned into freelancing. I was a combination of all the above!
I wanted to ensure that I have a lifestyle where:
I can travel;
I wasn't happy being an employee any longer and hitting the glass ceiling;
I needed to have a flexible job as I am a single mom and want to make sure I can still drive my daughter to her afterschool activities and be there for her; and
I still wanted to have fulfillment in my life by knowing what I do has a huge positive impact in the world.
The thing is, you don't have to stay paralyzed where you are right now. You can make life choices to do things that bring you joy. But having a system and support sure makes it's a lot easier!
You don't have to miss your kid's activities because of a job that holds you back. You don't have to be stuck in a job that only allows you to live paycheck to paycheck just because they are a nonprofit.
You don't have to not believe in yourself.
I saw an opportunity, went for it, fell on my face more than once, and then figured it out to show you what's not just possible, but now proven according to students.
I created the Freelance Grant Writer Master Course to be your support so that you can live the life that you want, while doing amazing things for the world. This is your place to feel supported and guided to living life on your terms. It is your guide and proven framework to help you along in your journey.
So there it is. I wanted to let you know why I created the Freelance Grant Writer Master Course, what it can do for you, and what's included inside the program.
And as you look to make a decision, just know this,
… this is totally normal.
For most of us, the biggest challenge is trying to manage all this on top of all the other responsibilities we have.
Life is an ongoing competition for your time and attention – and it's a competition you rarely win.
But it doesn't have to be that way.  By making your goals a priority, and having what you need to make them a reality, you can interrupt the pattern and get where you want to go.
Ask yourself this…
What's important in your life right now?
What do you want to achieve in the months ahead?
Knowing how to start a real business and get nonprofit clients will give you exactly what you're after – more clarity and confidence.
How long have you wanted to accomplish this for?
And how many times has this goal been pushed to the backburner?
You have an opportunity to do something about that right now.  Today.
Join me and register for the Freelance Grant Writing Master Course
I can't wait to help you start a real business and get nonprofit clients!