The Grant Writing & Funding Hub Haven (stress-free zone)
It's that time of year again, when the Christmas lights go up, the smooth sound of Michael Bublé is on the radio, and hot chocolate is a must! Hence, the Grant Writing & Funding Hub Haven!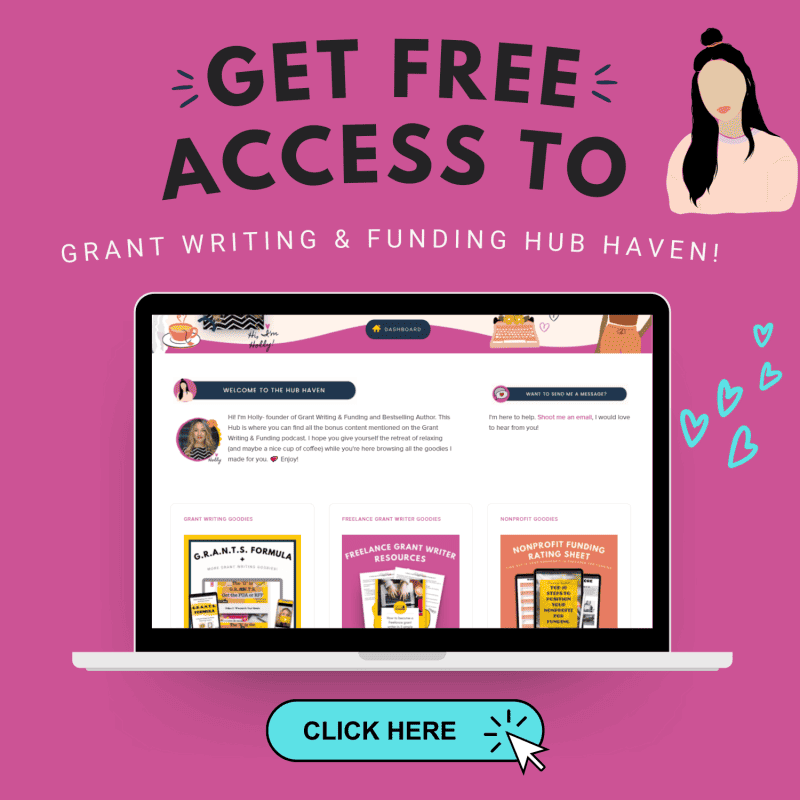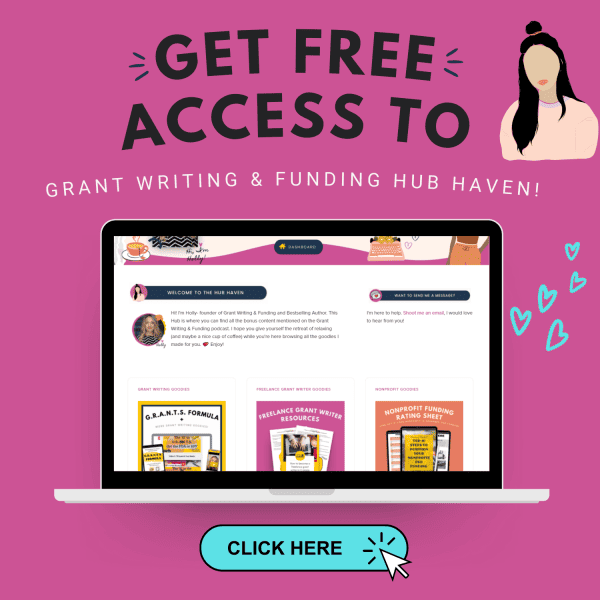 What is the Grant Writing & Funding Hub Haven?
The Grant Writing & Funding Hub Haven is an online nook where you can access tons of Holly's resources on grant writing, nonprofit development, and freelance grant writing.
It is a beautifully designed space with all of your specific funding needs organized.
In this way, you can easily access your resources to grow your nonprofit.
Why did Holly develop the Grant Writing & Funding Hub Haven?
I wanted to develop a nook where you can easily access everything we have going on at Grant Writing & Funding. Many of you love to sign up for multiple free resources we offer… but I know those things get lost in the email rabbit hole when you need them the most!
Plus, we offer discounts on partner products, are always hosting innovative webinars and workshops, and have a ton of other resources for you.
When I saw everything  we do, I knew that you might only be seeing a slim margin of what we have. Therefore, I wanted to make sure that anytime I add something new, you have access to it all!
Plus, when you think about writing a grant, starting a nonprofit, or launching a freelance grant writing business that you aren't stressed out. You are an amazing Changemaker that is changing the world for GOOD, so you need a beautiful ambience to learn in.
What is all in the Grant Writing & Funding Hub Haven?
In our beautiful space, we have the following (and always adding):
Access to upcoming trainings
Free Masterclasses
GRANTS Formula checklist
Nonprofit Rating
Resources to Get Paid to Write Grants
Stress-Free Nook
Most Popular Podcasts & YouTube Videos
Partner & GW&F Discounts!
What's the Gratitude Gift?
It is also a time of gratitude and giving.
I absolutely love November and December. This time of year takes me back to growing up in the snow in the upper peninsula of Michigan and being surrounded by snow.
The Christmas lights, festive spirit, and singing always made that cold worth it!
So I have a Free gift for YOU this time of year.
As you know, I recently launched the Grant Writing & Funding Hub Haven  that has all kinds of great resources for you.
One of the gifts I recently added to the Hub Haven is the Gratitude Gift Journal inside the Stress-Free Nook. (yes, mental health is important for us Changemakers)
I actually developed this for my Grant Professional Mentorship and decided I wanted to gift it to you all on my email list (Thanks mentees for loving this resources and letting me share!).
Because every time you open my emails you are letting me in your home, office, or other places. And I love that!
So if you sign-up for the Hub Haven, you also get access the Gratitude Gift Journal and you will also get a little Christmas music too!


Enjoy the Stress-Free Grant Writing & Funding Hub Haven!